We introduced the Love Cambridge Gift Card to drive footfall and lock money into the Cambridge BID area and that is exactly what it has done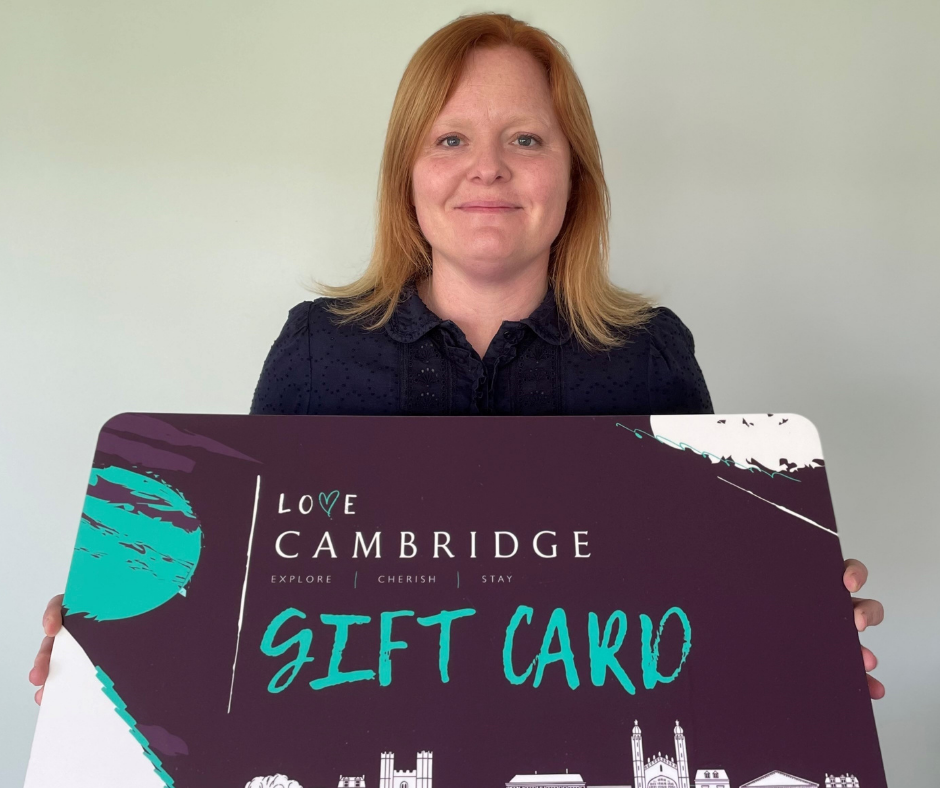 Background to the Cambridge Gift Card
The Love Cambridge Gift Card launched in 2018 and can be spent in approximately 200 businesses in the city. With over £260,000 in gift card sales since its launch and over £107,000 in sales in 2021 alone, the Love Cambridge Gift Card was one of the most successful Town & City Gift Card programmes in 2021.
Helen Hames is the Marketing and Commercial Manager at Cambridge BID:
Why did you introduce the Love Cambridge Gift Card and what has the impact been for your various stakeholders?
"We introduced the Love Cambridge Gift Card to drive footfall and lock money into the Cambridge BID area and that is exactly what it has done. The Love Cambridge Gift Card retained over £100,000 in the local economy in 2021 alone, money that is ring-fenced for local businesses and has to be spent in person here in Cambridge. That is a very powerful message. We know that money is staying in the BID area, as part of our wider objective to encourage people back into the city centre, when they feel ready.
"Over the past two years, the idea of supporting local has elevated further, people have realised that it is so important, and businesses also now understand their ability to impact local through support of the Love Cambridge Gift Card.
"The fact that we have the Love Cambridge brand out there in people's pockets and wallets on the Love Cambridge Gift Card is brilliant for brand awareness, it helps people to understand who we are and what we offer. They'll receive a gift card and visit the Love Cambridge website, and through that will also be able to gain an understanding of the other activities we work on too.
"The gift card also encourages people out of their comfort zones. With a card in their hand, they're more likely to explore new businesses and that can enhance their overall experience in Cambridge and its appeal as a city."
How did you encourage 200 businesses to join the Love Cambridge Gift Card and why was this important to you?
"Our strapline for the Love Cambridge Gift Card in 2020 was 'one gift card, thousands of choices' and we have really worked on building up the range and quantity of places the gift card can be redeemed. There is something for everyone.
"As well as national retailers like John Lewis and M&S, we added new brands to the gift card like Primark, which has opened up the appeal of the card to a new demographic. The Love Cambridge Gift Card also has a strong F&B offer, with a number of national and independent restaurants. Independent businesses also feature strongly, like Ark, Cambridge Contemporary Art and Podarok, plus eateries like Aromi, Bread & Meat, Nanna Mexico and many, many more.
"I think having a broad range of participating businesses has helped us to secure an increase in corporate sales since we launched in 2018 – our aim is to ensure the Love Cambridge Gift card offers something for everyone. We have been delighted that more companies now are wanting to reward their staff in a way that supports the local economy, and that's what the Love Cambridge Gift Card offers.
"Looking at the redemptions for the Cambridge Gift Card, we can see that we have a really broad cross section of usage, and that is one of the unique aspects of the program. There are people that use their gift card for their daily lunch or coffee, right up to higher value spend. The beauty of the card is that it can be used flexibly, and that gives customers the opportunity to really explore the city.
"This idea of customer proposition is one that we return to regularly, ensuring that everyone that receives a gift card has somewhere they can spend it. It is our aim to make the Cambridge Gift Card as appealing as possible to a broad range of people, which requires us to look at the gift card from the perspective of all different age groups, and the different purposes they might use the card for. There is immense satisfaction in being able to use your gift card for small day to day purchases, as much as for larger or luxury purchases.
"The gift card gives us a product through which we can talk to businesses, and give them a tangible means to support local. It also gives us an immediate reason for us to talk to a new business that has opened in Cambridge."
Can you please tell us about your recent marketing and PR activity?
"Our most successful marketing campaign was our corporate cash back promotion which ran in 2020 and 2021. Each autumn, we have launched a corporate offer giving businesses 5% 'cash back' in the form of Love Cambridge Gift Cards for purchases of £1000 or more by 31st December. The free gift cards have then been issued the following January and could be given back to the business loaded onto more than one card if needed, so they could be used as additional staff incentives through the year, or for a team meal out or something similar.
"We also developed a series of social assets in 2021 to use across our platforms to promote the gift card. The social assets highlight different reasons to purchase a gift card alongside possible ways in which it can be spent. The Love Cambridge Gift card is integral to our marketing activity – we feature it within our own publications and we work with numerous print and digital partners across Cambridge to highlight to the benefits of supporting Cambridge businesses via the Love Cambridge Gift Card."
What are your future plans with the Love Cambridge Gift Card?
"Looking ahead we are hoping to grow the project further. We would like to continue adding participating businesses to the project, further increasing the appeal of the Love Cambridge Gift Card to an increasing customer base. In addition, we would like to expand our corporate offer this year, mixing the personal touch with the Love Cambridge Gift card to offer corporates an enhanced local offer for their employees.
"We are working with Miconex on enhancing the Love Cambridge Gift Card in 2022 and later this year we will be offering a digital card which can be added to digital wallets.
"Feedback from our customers will continue to help us adapt the gift card proposition and create marketing initiatives that align with the goals of our stakeholders."