Trailblazing Perth Gift Card reaches £500,000 milestone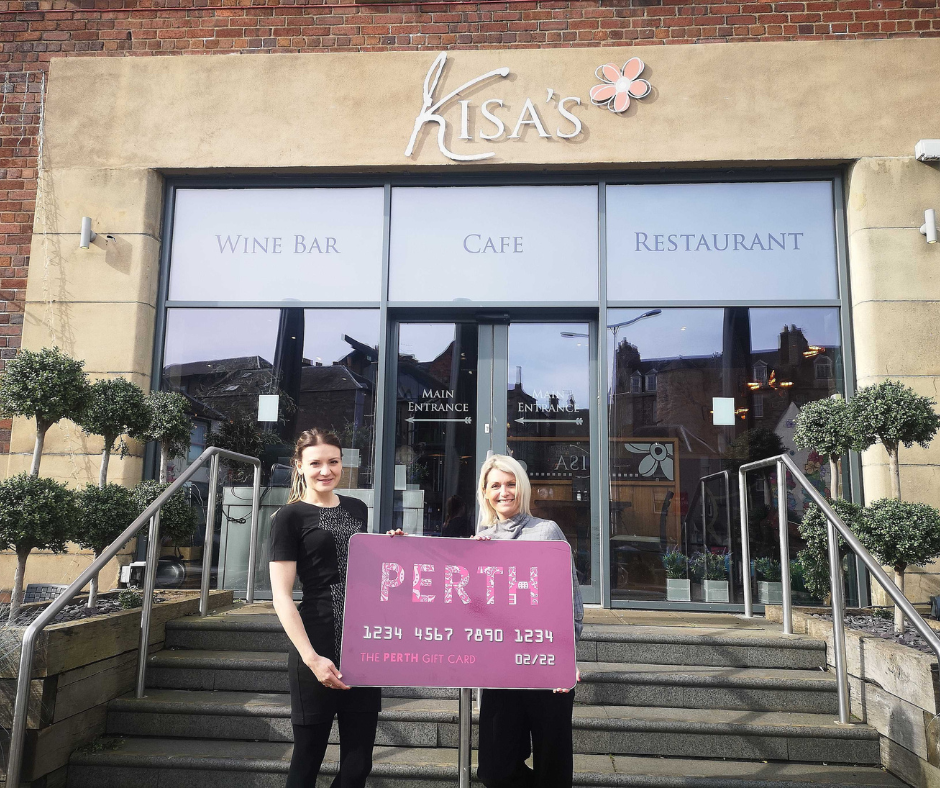 Restaurants, butchers, jewellers, gift shops, cafés and outdoor clothing stores are some of the most popular places for people to spend their gift card
Perth's businesses are hailing the city's gift card initiative a success as it reaches a milestone of £500,000 spent in local businesses.
Over 110 businesses are part of the Perth Gift Card with over 94% of merchants receiving spend through the card.
The top 13 places for people to spend their Perth Gift Card over the past 5 years include Kisa's, Café Taboo, Brown & Blacks, Craigdon Mountain Sports, DG Lindsay & Son Butchers, Begg Shoes, Deans Restaurant, T Paterson Jewellers, Number Five Goldsmiths, Silver Linings, Precious Sparkle, McCash's Country Store and Simon Howie Butchers. Over £119,000 has been spent through the gift card across the 13 businesses.
However it was Kisa's that is the number one place for people to spend their Perth Gift Card, with 763 of the gift cards spent at Kisa's in the last 5 years, which equates to around 12 cards each month.
Beth Leonard is the Manager at Kisa's in Perth and said:
"We're so fortunate at Kisa's to have many loyal customers and I think a lot of that is down to the ethos of the owners Sam and Kim Wightman, who are passionate about quality food paired with good customer service.
"Kisa's is open for breakfast, lunch, dinner or cocktails, and caters for a vast range of ages, whether it's friends out for cocktails, family brunch or a romantic dinner. That diversity makes Kisa's a place where lots of people can spend their Perth Gift Card.
"The Perth Gift Card is a wonderful gift because you're not limited to one outlet to spend it, and it can be used in retail, hospitality, culture and more. This spreads out the benefit across Perth and is a really collaborative initiative for the city.
"We get lots of regular customers using their Perth Gift Card but we also get new customers in too. We've got the Perth Gift Card sticker in the window so customers know we accept the card, and we talk about it on social media. The ease of the card for customers and us as a business is a real plus point, it's no fuss and brings huge benefits."
Beaton Lindsay is the owner of fourth generation family run butchers DG Lindsay & Son and said:
"DG Lindsay & Son started as a butcher in the 1870s. We've maintained our traditional values, offering the best quality products, and keeping things local and Scottish with our award winning steak pies and ready meals.
"We see lots of people spending their Perth Gift Card on their staples; it's a genuine saving for them and means they can put the cash they would have spent on food to something else. And we also see people treating themselves, perhaps getting some nice steak.
"It is getting harder for small businesses. The Perth Gift Card is an initiative that looks after small businesses in Perth, and keeps money locked in locally, so it really does help. We especially appreciate that local employers use the cards to give to their staff because it brings new people through our door – and that's one of the hardest things for any business to do."
Karla Mason is the Manager at independently owned Craigdon Mountain Sports in Perth and said the card offers customers choice and promotes the city:
"I think people appreciate being able to use their Perth Gift Card to indulge in their hobby, such as buying new walking boots so they can get exploring. They'll often use the card to 'trade up' and put it towards a bigger purchase.
"The beauty of the card is that it's putting money back into Perth but it's also giving choice, you can spend it on a nice breakfast or new boots, a massage or mountain gear. We're pleased to be a part of an initiative that promotes our city and our businesses. It's a card that people are familiar with and understand how to use."
The Perth Gift Card was the first Town & City Gift Card and has been the inspiration for similar schemes across the country. Over 24 Scottish towns and cities now have their own gift card backed by Miconex technology.
In 2022, Miconex also introduced the Perth Food & Drink Gift Card, featuring over 30 of Perth's cafés, restaurants, delicatessens, butchers, distilleries, breweries and bakeries.
Colin Munro is the managing director of Miconex and said the impact of the Perth Gift Card on the city's economy has been significant:
"When you receive a gift card, it's like being given free money, meaning the majority of people spend over and above the gift card value to get something they really want or need. And that has been the experience of our Perth businesses, who have benefited not only from the initial sales of the gift card but from the overspend, new customers, and a stronger Perth economy.
"The proposition on the Perth Gift Card is strong, with the best of the city accessible through the card. It's fantastic to see that 94% of businesses have received spend through the card, showing that customers are fully embracing the choice on offer to them."