The York Gift Card has exceeded our expectations and is going from strength to strength: Browns Department Store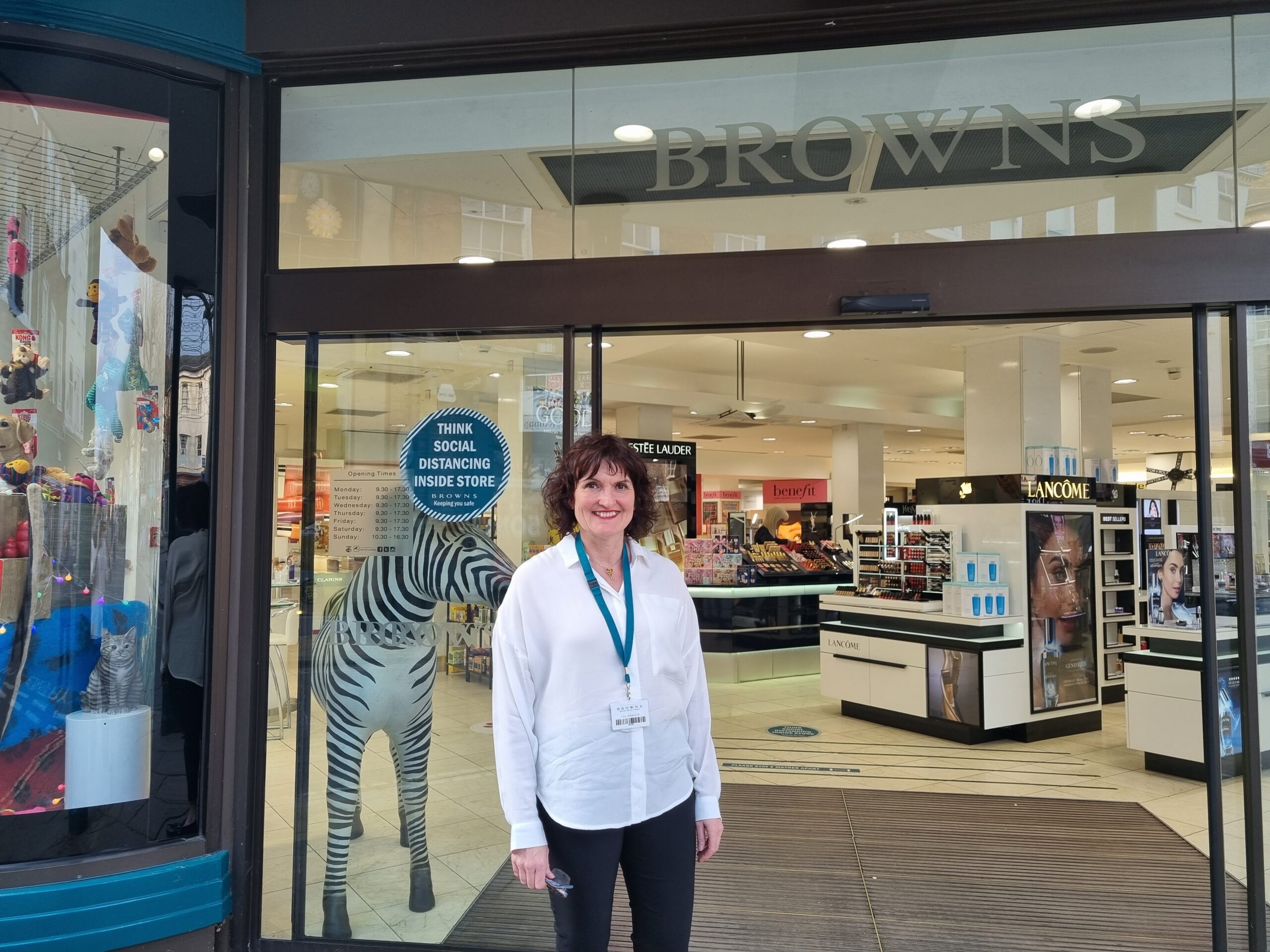 Browns of York
Browns is an independent department store in York, and has been a family business since 1896. Part of the York Gift Card, Browns is one of the most popular places to redeem a York Gift Card with over £1400 of redemptions in 2021. The York Gift Card achieved almost £70,000 in sales in 2021, an increase of 47% on 2020, and over 300 businesses accept the York Gift Card, making it the biggest Town & City Gift Card in the UK.
Angela Horner is the Associate Director at Browns and is part of the York BID Board:
"Browns was started by my great, great grandfather, Henry Rhodes Brown, who was Lord Mayor of York twice over. The business was taken over by his son and expanded over the years from the Davygate location that opened in 1906 to include 3 other satellite stores in Helmsley, Beverley and Gainsborough. We're proud to be a 5th generation, family owned business in the heart of York.
"Like for everybody, the pandemic has been challenging. We were shut, our staff were furloughed. But when we reopened, it was really positive. People had been at home, and money had been burning a hole in their pocket- they were ready to treat themselves. Browns did very well pre-Christmas on the retail side, however there are still challenges.
"We have both Rhodes Restaurant on the first floor and Browns Café on the ground floor. The team at the café downstairs have worked like Trojans. We had the Christmas fair outside in York city centre, and as for all hospitality businesses, we've been very short staffed. It has been all hands on deck; at Christmas, we had the personnel manager on the dishwasher, I was on drinks! Our Rhodes restaurant on the first floor is yet to re-open, but we hope to do that in April 2022. Omicron did dampen trade a little in December as people became more reticent about coming out, especially vulnerable people.
"We have another battle ahead of us, but we're still here and we're ready"
"January and February, as usual, have been quieter. I think we are facing a very challenging year ahead in 2022 not due to covid but due to worldwide global economic forces, as disposable incomes are squeezed by the rise in food and fuel prices. So we have another battle ahead of us, but we're still here and we're ready.
"As Associate Director at Browns and Director- Retail Representative of the York BID Board, I have a foot in both camps. I thought the York Gift Card was a great idea. Anything that boosts retail and hospitality and brings people into York is a good thing but when we introduced the gift card we were all keen to make it more than a good idea and to really work. Carl at York BID has worked consistently hard at making the York Gift Card successful, with strong marketing, competitions and building the places where it can be spent, essentially making sure everyone knows about it, and they do. Everyone at Browns has been delighted with it. The York Gift Card has exceeded our expectations and is going from strength to strength.
"Having a gift card gives people the permission to spoil themselves"
"I think Browns is one of the most popular places to spend a York Gift Card because we've got a wide offer. The brands, the departments, fashion, cosmetics, handbags, shoes. Local people love Browns, they're very fond of it, and they're happy to be able to spend their gift card with us. They're not looking for the practical, they want to treat themselves with something decadent such as cosmetics or a handbag. If they'd never normally spend quite so much on a perfume or a handbag, or maybe see a brand as being a little bit expensive, having a gift card gives people the permission to spoil themselves.
"Being a part of the York Gift Card encourages new people through the door, and then, they have a positive experience, and we can convert them into loyal, regular customers. The good thing about the gift card is that it can be spent on a whole experience of the city. In York we have a really strong independent scene, we have lots of tourists and a big student population. The York Gift Card works for everyone.
"What's interesting in 2022 is that even though we're still crazy about internet shopping in the UK, much more than in other countries, internet shopping fatigue is setting in with certain things. If you want to buy something a bit more interesting, you want to go to a store and see the item, have a conversation with a real person. The buzzword now is experiential retail. It's about people engaging with your brand, as much as the sale itself. Department stores like BHS and Debenhams lost their way because the shopping experience was dull.
"Retail and the high street will survive if it adapts, and initiatives like the York Gift Card play a big part in that"
"The experience extends to the gift card too. It's important that businesses who accept their local gift card regularly refresh staff on how to accept the card. It's one of my jobs today to go around and make sure that everyone remembers, especially staff who are maybe only in occasionally. It's our responsibility to make sure that when a customer brings a York Gift Card in, that it will be processed easily. It's also down to the businesses to inspire customers on how to spend their gift card.
"Retail and the high street will survive if it adapts, and initiatives like the York Gift Card play a big part in that. By getting behind the gift card, we're all working together to bring people into the city centre. It's a 'use it or lose it' situation with shops. If people don't shop with the businesses, they won't be here. The York Gift Card is a very positive thing to drive footfall, and that's what we need."