The Love Cambridge Gift Card enables people who have experienced homelessness to access all aspects of society that many of us take for granted.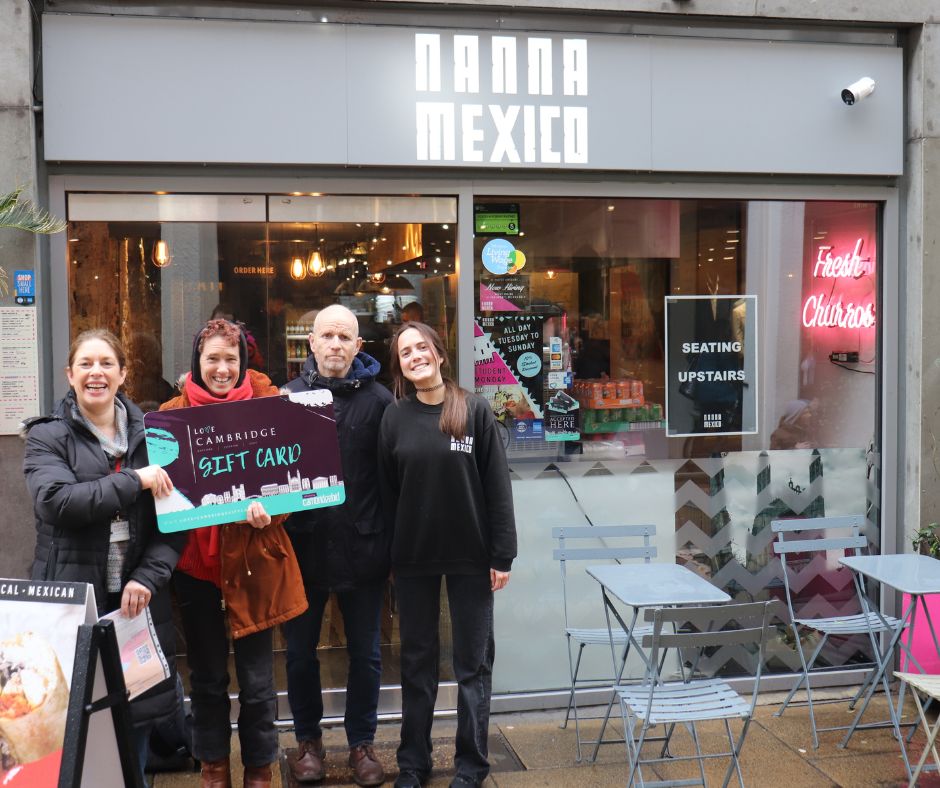 The Love Cambridge Gift Card launched in 2018 and can be spent in over 170 businesses in the city. In 2023, Cambridge BID is collaborating with Pay It Forward, a Cambridge created non-profit supporting people in need, using the Love Cambridge Gift Card to distribute funds to service users via local charities.
Theresa Feetenby is founder of the Pay It Forward Voucher scheme: 
"I created The Pay It Forward Voucher Scheme before covid when I came across a homeless person in a doorway. They had a drink and a sandwich already but I couldn't walk past without doing something. I started wondering if there was a way to give the person a voucher they could keep hold of and take into a shop when they were ready.
"During covid, I realised that even more people were struggling. I also wanted to help local businesses who were also struggling and in need of support. And that's when I came across the Love Cambridge Gift Card through It Takes A City.
"Pay It Forward has partnered with Jimmy's, Wintercomfort, Cambridge Housing Society (CHS) and Crossways, giving each organisation preloaded Love Cambridge Gift Cards for them to distribute to their service users or residents, to buy clothes to get smartened up for an interview, or for a project worker to take a service user to a café to buy them a coffee and a cake and have a catch up. There are many ways the cards can be used.
"Importantly for the charities, because they're using the Love Cambridge Gift Card, it doesn't come out of the charity's funds, so it alleviates the pressure on the charity's finances. We have lots of businesses who are interested in sponsoring the cards but we need more sponsors, so we can help more people in need in Cambridge.
"What's really useful is that we can track spending through the cards, so sponsors can understand exactly what impact their donation is making."
Abby Pollock from Cambridge BID said: 
"The Love Cambridge Gift Card can be spent at over 170 businesses, from cafés and coffee shops for a warm drink, to shops to buy food or clothes, many of which are close to organisations like Jimmy's.
"Pay It Forward using the Love Cambridge Gift Card means that organisations can support their residents and service users with dignity, using a card that doesn't mark out the service user in any way. As well as Pay It Forward batch ordering the Love Cambridge Gift Card to distribute to organisations in Cambridge, Cambridge BID has sponsored the gift card going to Jimmy's.
"The Cambridge Gift Card is a very popular way for people to support local in Cambridge and has a strong economic impact for the city with over £350,000 of cards purchased since its launch in 2018. But getting involved with Pay It Forward is a way that we can explore how the gift card can support our community in a different way, reach those in need, and enable businesses to support the city too.
"Our hope is to raise awareness of Pay It Forward and the services on offer in Cambridge to support the more vulnerable in our society. We know that there is a big appetite from businesses to be involved in charity and supporting the community, and participating in this initiative is one way that they can do just that.
"We need more businesses to sponsor the Love Cambridge Gift Card to go out to organisations through Pay It Forward, and even more businesses to sign up to accept the card as payment, so we can use the Love Cambridge Gift Card to help those in need."
Chris Dade is Support Services Manager at It Takes A City:
"It Takes A City is a charity set up to encourage partnership working in Cambridge with a vision of ending homelessness. During the pandemic, It Takes A City began working more closely alongside Cambridge City Council on rough sleeper projects, including a 20 bed winter hostel in the city. We provide food, clothing and support for residents, and we also provide support as people make the move from the hostel to longer term accommodation.
"What we like about using the Love Cambridge Gift Card is that it supports the journey our residents are making. While we are able to secure very generous grants to support our residents with items such as new clothing, a staff member has to go with the resident to make the grant purchase. With the gift card, it is more empowering for residents because they have the choice to spend the cards as they wish, when they choose to do so. For many, going into their first ever tenancy or even a room in shared accommodation, the ability to make their space a home can often be the difference between success and failure.
"Homelessness makes people feel alienated. The other benefit of us using the Love Cambridge Gift Card is that it enables people who have experienced homelessness to access all aspects of society that many of us take for granted. For many residents, their experience of a shop or a café is sitting outside it. The gift card is a way for them to navigate a new environment, helping residents to integrate back into society.
"The response we've had from residents is positive. Many residents have relationships with those that want to support them, but may be reluctant to provide cash. The Love Cambridge Gift Card is a meaningful way they can offer support, that isn't cash. This is a worthwhile initiative that is making a difference, and I hope to see even more organisations getting involved and pledging their support."
Melody Brooker is Fundraising and Communications Manager at Wintercomfort:
"Wintercomfort is an advice and support hub at the heart of homeless services in Cambridge.  The charity provides year-round vital services for people who are rough sleeping, at risk of losing their home or who have had past experience of homelessness.  Open every day of the year, Wintercomfort provides Cambridge's only day-time drop in service for rough sleepers, offering free meals, showers, laundry services and clothing alongside a broad range of support to help people address challenges in all areas of their life.
"Services include help to access housing, training and education programmes, employment support, access to healthcare, counselling, sports and fitness programmes, dedicated women's services and specialist support for non-UK nationals.  Wintercomfort works to restore dignity, reduce marginalisation and to empower people to transform their own lives in a sustainable and positive way.
"The Love Cambridge Gift Card sponsored by Pay It Forward will be used by Wintercomfort in two ways.  Our support staff will use the gift card to treat service users to tea and cake (or food of their choice!) when conducting outreach sessions away from the centre.  This is something we've always done but typically, funds to support this come from our own welfare budget. We also intend to give the gift card to people who are moving into accommodation for the first time to help them to buy food and essential items to help them settle in.
"The Love Cambridge Gift Cards are particularly useful as they give a great variety of choice and this means that we can use them to address an individual's priority needs."
Kristina Cairns is the Communications Manager at CHS Group:
"Here at CHS, as well as providing over 3000 low cost rent or shared ownership homes in Cambridgeshire, we also run 7 supported housing services for a range of residents who would otherwise be homeless.  Our residents include young 16-25 year olds, women with mental health challenges, young parents and their children as well as 18-60 year olds with autism or learning disabilities.
"As well as providing accommodation to our residents, our staff provide help and support to enable our residents to regain control of their lives, make positive choices that help them get on their feet, learn the skills they need to live more independently and ultimately have a better future.
"The support from our staff is delivered through group sessions, workshops, resident activities as well as regular 1:1s sessions which allow residents time with their key worker to talk openly about any issues or challenges they are facing.  These 1:1 sessions sometimes take place at the service but our staff have reported that conversations that take place away from the service are often much more productive as residents are more relaxed and speak more openly without fear of being overheard so these chats often take place in a nearby coffee shop.
"The Love Cambridge Gift Cards that have been generously donated by Pay It Forward will allow our staff to have more of these productive sessions which will ultimately benefit our residents."