The beating heart of the Welsh economy: the Welsh Town & City Gift Cards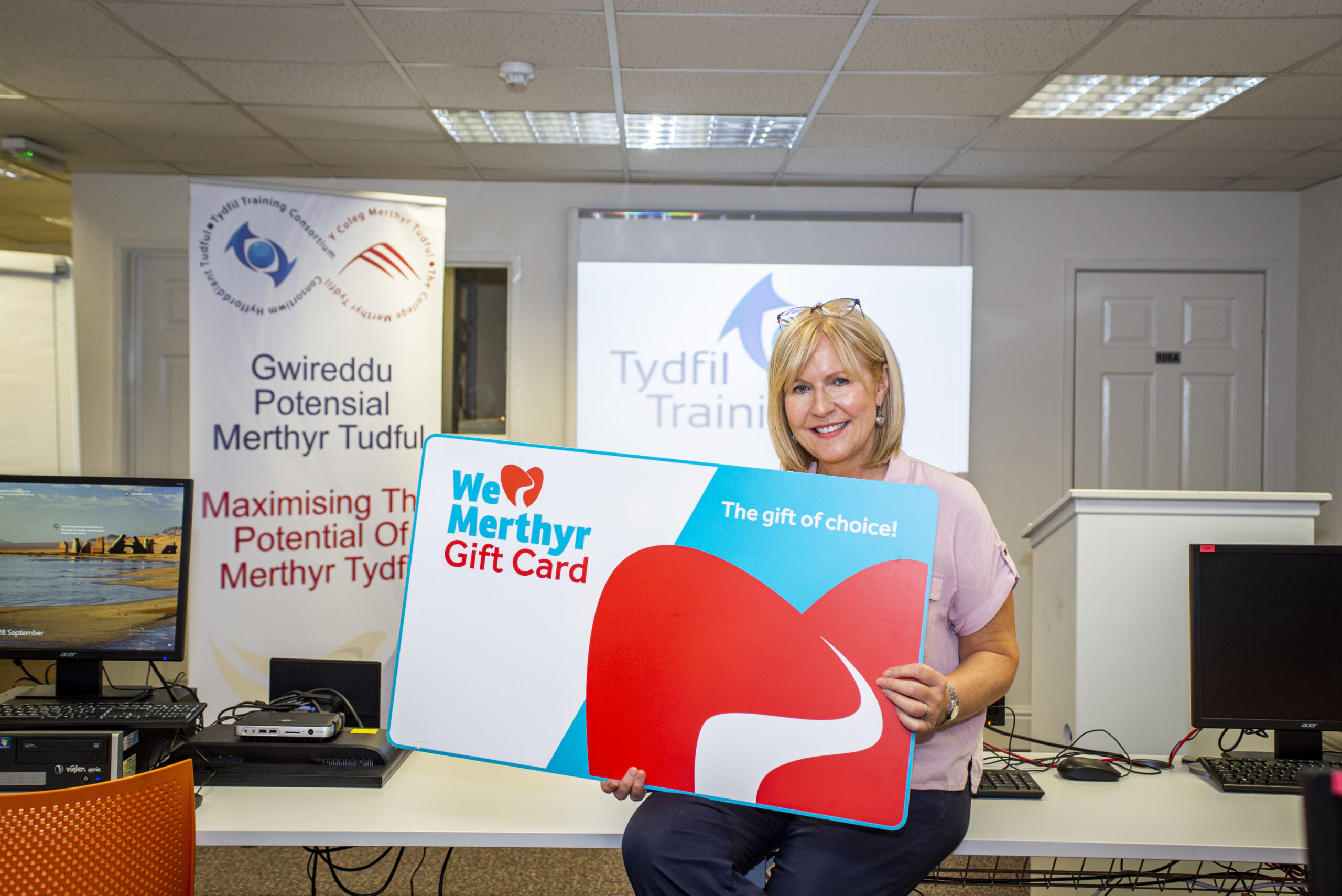 Case study: The Cardiff, Merthyr Tydfil, Newport and Swansea Gift Cards
Fintech Miconex works with four Business Improvement Districts in Wales through our award winning Town & City Gift Card program. In this case study, our Welsh programs share why they have implemented a local gift card, the business response to the scheme and their plans for the future of their gift card programs.
The FOR Cardiff Gift Card: Launched in 2017 and can be spent with over 70 businesses across Cardiff City Centre. Emily Cotterill is Projects Manager at FOR Cardiff BID:
"In our first term, we had a pot of money to support independent businesses and introduced the FOR Cardiff Gift Card specifically for that reason in December 2017. However, we quickly realised that restricting the scheme to independents would be difficult. For a start, customers don't always know the difference between national and independent businesses, and we had instances where businesses joined the gift card as an independent business but then grew. This presented the dilemma of whether that business should be asked to leave the program. We solved the problem by going to the independents and asking them if they wanted to keep the gift card for independents or to grow the scheme. Essentially swapping the whole of a small pie for a slice of a larger pie. They opted for the latter and this enabled us to develop the FOR Cardiff Gift Card. We gained board agreement in 2019 and updated the program in 2020. Consumers are keen to engage with programs like ours; they don't want to buy single retailer gift cards because they're worried about potential closures. There was a decent uplift when we switched to the national approach. 
"The FOR Cardiff Gift Card is a tangible return on investment for our BID members. They may pay a £200 BID levy, but might receive back £350 in gift card sales. Once businesses realise that we are running the scheme to support them and are not out to make money for ourselves, they tend to be very receptive. We actually get businesses proactively approaching us to join up now. Primark, M&S and John Lewis are popular places for customers to redeem their FOR Cardiff Gift Card, and for the independents, hospitality is popular as well as any outlets that sell food and drink, such as delis. 
"Our next phase of development for the FOR Cardiff Gift Card includes targeting the corporate market, which was another reason for switching to a national approach. A Cardiff based law firm with 1000 staff can give out the FOR Cardiff Gift Card as a reward/incentive and know there is something for everyone, the nationals and also the independents too. It means they can tick the CSR box of supporting local, whilst giving their staff choice. We've recently added hotels to the gift card, and would like to add theatres and cinemas, which will allow us to provide a holistic experience through the gift card, and target the tourism market in the future. There are lots of opportunities for us to continue to develop the gift card in Cardiff."
The Merthyr Tydfil Gift Card: Launched in 2018 and can be spent with over 35 businesses in Merthyr. Elizabeth Bedford is the BID Co-ordinator for We Love Merthyr:
"The Merthyr Tydfil Gift Card was implemented to keep spend in the town and support a wide range of businesses, from the big brands like Boots and Wilko to the small independents. When the pandemic hit, we built a strong multi-media marketing campaign around the gift card, and promoted it for all occasions throughout the year.  This meant that people could send a gift to family and friends during lockdown even if they couldn't be spent at that point.   There was peace of mind for businesses knowing that the Merthyr Tydfil Gift Card could only be spent locally, once shops opened.
"Gift cards can work in small towns.  In comparison to Cardiff, Swansea etc., Merthyr is a little town but our residents are very passionate about supporting local businesses.   During the pandemic our strap line became Shop local. Shop safe. Shop Merthyr. The response from businesses to the gift card is positive once they understand that there is no charge for them to be a part of the scheme or to accept the card. What has worked best for us in Merthyr is to physically sign businesses up to the scheme ourselves in person, by taking the test transaction on their behalf. Our goal at We Love Merthyr is to create a town centre that people want to visit.   A variety of businesses, pleasant surroundings and a local gift card to spend will all drive footfall."
Dawn Bowden MS for Merthyr Tydfil and Rhymney said: "I am very pleased with the growing success of the We Love Merthyr gift card scheme. It is a great way to show support for local businesses and by using the card we keep the benefits in the town. That in turn supports the local economy and jobs for local people. I would urge others to get involved and let us all help to support the town after a hard period due to covid restrictions."
The Newport Gift Card: Launched in 2017 and can be spent with over 50 businesses. Kevin Ward is the Manager of Newport Now BID:
"In Newport, a lot of the regeneration that is taking place in other cities is already underway, such as the new four-star hotel in the Chartist Tower, the refurbishment of Newport's Victorian market, the new railway footbridge that will transform how some people come in and out of the city centre, and pop-up shops. During the pandemic, we were able to pivot and provide the help businesses needed during the pandemic, such as free PPE, grants advice, and virtual marketing support.
"It is now time for us to refocus our attention on the services we provided pre-Covid such as the Newport Gift Card. We will relaunch the program to businesses in August 2021 and then to the public in September, this time through a fully-serviced package with Miconex where they will manage the fulfilment of orders, saving considerable time for us as a BID with a small staff. Our main message in 2017 was that the Newport Gift Card keeps the Newport pound in Newport, and that message is still relevant today.
"Every business is welcome to sign up to the Newport Gift Card, and that's the beauty of the scheme. You can have your local opticians, restaurant or pub on the gift card, alongside your big department stores. The nationals are popular for redemptions, and retail and hospitality are both popular independent businesses for redemption.
"One of our successes with the Newport Gift Card in the early days was corporate orders. Employers would order for their staff incentives and rewards for the year but the one-year expiry made this difficult for them to use across the year. A key difference with the program this time is that employers can get the gift cards delivered as they need them, so they can give to staff with a full year to use the cards. We will be writing to the bigger employers in the area to encourage them to support Newport with a corporate gift card order.
"Another change for us as we relaunch the Newport Gift Card is the self-load option, allowing customers to pick up a Newport Gift Card at an outlet in Newport and load it online. There's a reason that the big supermarkets put their gift cards by the tills, it's because people often forget they need to buy a gift until the last minute. Seeing the stand reminds them, and it's a gift they can have in their hand there and then that supports local." 
The Big Heart of Swansea Gift Card: Launched in September 2021. Andrew Douglas, Swansea BID Operations Manager said: 
"I heard about the Town and City Gift Cards concept at an ATCM meeting and saw it as a project that could aid the recovery of our businesses in Swansea, provide an extra layer of support and bring customers back to the city centre. We spoke to Cardiff to understand more about their experience, and launched our Big Heart of Swansea Gift Card in September 2021, in readiness for the Christmas period. One of the benefits of the Town and City Gift Card concept is the range of businesses we can support with it, from our anchors like M&S and Tesco to small independent businesses. Both the big brands and the independents are keen to join the program, and we aim to have 200 businesses by our launch date. Future plans for the gift card include corporate sales, events for particular target groups such as students, and working alongside Swansea Council to bring the gift card to a range of audiences. 
"It is so important that BIDs and other city centre stakeholders find imaginative ways to support town and city centres and to give consumers and businesses a real sense of ownership of their shopping and visiting environment – and the Big Heart of Swansea gift card is a great tool in helping us do this. Our town and city centres are the beating heart of the Welsh economy and they need to be nurtured now more than ever. Initiatives like this one send the very positive message that Swansea city centre is open for business and it needs the support of consumers in moving onto its next successful chapter."
Russell Greenslade, Swansea BID (Business Improvement District) Chief Executive said: "We are delighted to launch the Big Heart of Swansea gift card. This initiative is very much a natural progression for our Big Heart of Swansea Brand that has been very successfully encouraging consumers and visitors into Swansea city centre with special events and offers for some years now. The gift card will be a further support to our BID area businesses who have worked so very hard to serve the city during a very tough trading year. Swansea has a bright future and this is a time to double-down on our efforts to make sure it reaches its potential."