Strabane releases new local gift card to bolster shop local efforts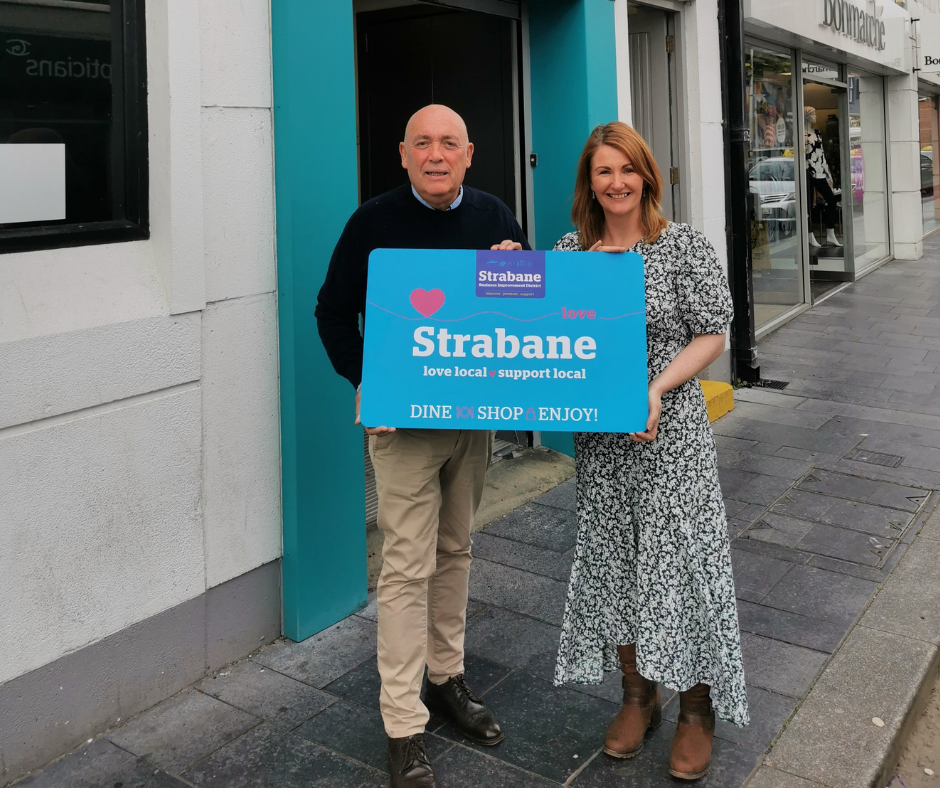 The new Strabane Gift Card has a fresh look, can be spent with more businesses, and is eco-friendly
Strabane is bolstering its shop local efforts through its local gift card. Strabane Business Improvement District (BID) has released the new Strabane Gift Card, which is both recyclable and compostable, a departure from the previous plastic card.
The new Strabane Gift Card features a new blue and pink design with the 'love local, support local' messaging. An influx of additional businesses to the new gift card, means it can be spent with over 70 local shops, restaurants, leisure and attractions plus health and beauty venues.
Over £125,000 has already been retained in Strabane through sales of the Strabane Gift Card since its launch in 2018, with hopes that the new look gift card programme will encourage even more people to support local businesses.
The relaunch of the Strabane Gift Card is the latest initiative from Strabane BID to drive economic recovery in the town following the pandemic. Strabane BID moved into a second term after a successful renewal in September 2021, with a refreshed brand identity.
Emma McGill is the Strabane Town Centre Development Manager and said the time was right to refresh the town's gift card programme:
"We're pleased to introduce the new-look Strabane Gift Card which can be spent in more businesses in the town, making it an even better gift to give and receive. When the magnetic strip on the card is removed, the card can be recycled or composted, and the card is posted out to the recipient in recyclable envelopes too.
"The gift card will also be more accessible for businesses as they no longer need a swipe function to accept the Strabane Gift Card, meaning we can spread the benefits of shop local in Strabane even wider."
A popular place to spend a Strabane Gift Card is McHughs Tyres and Fuel, who have been established in Strabane for over 25 years. Owner John McHugh said:
"When people spend their Strabane Gift Card at McHughs, it's on tyres or on fuel. It's good that people have the chance to spend their gift card on more practical items, especially now with the cost of living crisis. Everything is getting more expensive, and being able to keep your car on the road and the house warm is a help for household finances.
"We give our staff the Strabane Gift Card at Christmas because a rising tide lifts all boats. If a shop next door is doing well, they buy from other businesses and employ people locally. It gives everybody a lift, and is tax deductible too. I'd much rather give staff the Strabane Gift Card where the benefit stays here in Strabane, than a single retailer gift card where the money leaves the area.
"With the new-look Strabane Gift Card, as well as being able to swipe the card in person, we'll also be able to take payment with the gift card over the phone. That will be handy for customers that order their fuel over the phone as it saves them a journey to the service centre."
Another popular place to spend a Strabane Gift Card is family run ladies boutique Bejeweled at Soul which sells footwear, jewellery and accessories, with luxury brands including Wonders, Hispanitas, NeroGiardini, Rebecca My World, Guess and Voya.
Ursula O'Neil, co-owner at Bejeweled at Soul said: "The Strabane Gift Card brings us new customers who mightn't have shopped with us before. We welcome them in and once they've had the chance to experience the boutique, our excellent customer service and trend forward products help them to become repeat customers. And I think that's why we're one of the most popular places to redeem the Strabane Gift Card too.
"The new eco-friendly version of the Strabane Gift Card is a fabulous, innovative approach for our town, and will hopefully bring more people onto the high street to support local businesses. As a small business, we appreciate every person who steps through our door. We're all for the community and supporting our town, and the updated Strabane Gift Card is an investment in the future of Strabane."
The Strabane Gift Card is part of the award winning Town & City Gift Card initiative from fintech Miconex, with similar programmes in Belfast, Causeway Coast & Glens, Enniskillen and Mid Ulster.
Managing Director Colin Munro said sustainability is a big concern for customers: "Gift cards are popular across the generations. 76.3% have purchased a gift card over the past 3 years, rising to 82.6% of Gen Z. And over 20% of people say they would prefer to receive a gift card that can be recycled. With the additional businesses that are now part of the new Strabane Gift Card, it offers unbeatable local choice for customers, and for employers wanting to use the cards as staff rewards and incentives."
The Strabane Gift Card can be purchased online from www.lovestrabane.com or in person from O'Neills Sportswear, The Alley Theatre and Caffe Fresco.