Of all the initiatives we have undertaken in the last 12 years, it is the easiest to understand.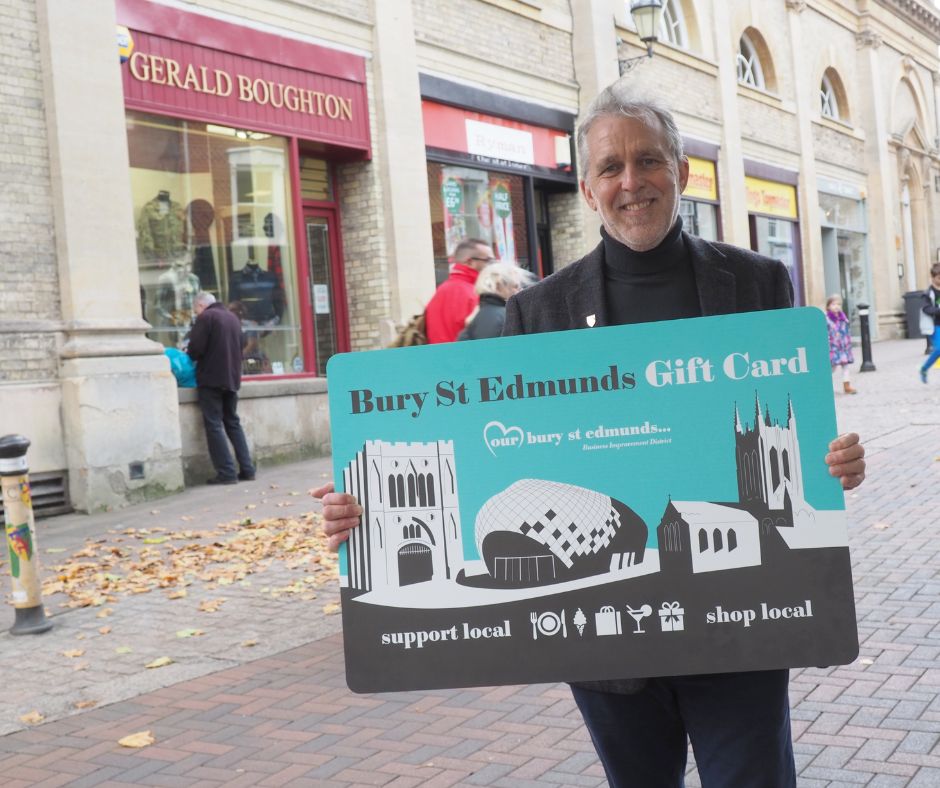 Over 75 businesses are part of the Our Bury St Edmunds Gift Card, which launched in the town in October 2020 and reached a milestone £100,000 sales in December 2022. Mark Cordell is the Chief Executive Officer at Our Bury St Edmunds:
Why did you introduce the Our Bury St Edmunds Gift Card?
"In 2019, we were in the final year of our second term and looking for initiatives to utilise in our third term, if we were successful. At that time, it looked more likely we would use the gift card in the second or third year of our new term but then covid hit. As our businesses were in a very difficult position, we needed to reevaluate our priorities. Fortunately, we'd done the research so we were able to pick up the gift card initiative.
"We launched at the end of October 2020 and are absolutely delighted that in our 25th month, the Our Bury St Edmunds Gift Card broke the £100,000 barrier in gift card sales, which in all honesty massively exceeded my ambitions. In my own mind, I'd hoped that we might generate £20,000 a year. What has helped is that by launching in late 2020, we managed to incorporate 3 Christmas periods. For us, the gift card has been a huge success. The concept is so simple to understand by the public and our businesses.
"Of all the initiatives we have undertaken in the last 12 years, it is the easiest to understand. You could do a pitch on the gift card in 30 seconds. The concept for us was pulling the community together, including corporate businesses, around supporting the local economy. We have always been very pro-local, and clearly when we launched, the call to action to support local was as strong as ever. We're really pleased with how it has gone."
How did you build the consumer proposition for the Our Bury St Edmunds Gift Card?
"When we were looking to introduce the Our Bury St Edmunds Gift Card we saw it as a gift card for all types of businesses. The offering on the Our Bury St Edmunds Gift Card is diverse, so it's not just shops, but also cafes, restaurants, wellbeing businesses and we even have a solicitors. For us, it has been easier to onboard independents, because you can walk in and have a conversation with the owner and 2 minutes later it is sorted. That has been more challenging with our nationals because of the approval required from head office. At the moment, we have 75 businesses signed up, which is approximately 20% of all our businesses, so there is still a long way to go. We're not yet in double figures with our nationals. Our Account Manager, Anna, has been helping with national onboarding, so when a national brand joins Town & City Gift Cards, they are onboarded for all relevant programs.
"The huge gift card that Miconex provides has been really useful. We can have a photograph with businesses to demonstrate that they are part of the card."
How does the Our Bury St Edmunds Gift Card compare to a generic multi-store or single retailer gift card?
"The market for multi-store gift cards is widening without a doubt but most multi-store gift cards tend to be just nationals. With the Our Bury St Edmunds Gift Card, you can buy a gift card that doesn't restrict the recipient to one or more nationals, and that enables them to use it in either independents or nationals. The big pitch is that you are supporting local businesses and the local economy. I'm pretty confident that most of the £100,000 generated through the Our Bury St Edmunds Gift Card would have been spent with Amazon, John Lewis or M&S. We only have one of those outlets in our town, so we are undoubtedly better off. The message we continue to convey is that what we are directing £100,000 into our local economy that would have gone elsewhere."
What has been the reaction from consumers to your gift card?
"Very positive. This year, alongside Miconex, we developed the ability to pick up the gift card at local outlets. Six of our businesses hold our Load This Card envelopes and gift cards, so if customers don't want to order online, particularly if it is last minute, they can pop into one of our outlets and load the gift card themselves. They don't even have to go home. The idea is that you can pick the gift card up when you're out and about, load it via your mobile, and 5 minutes later you have a gift. In 2022, as we approached Christmas and experienced postal strikes, the Load This Card service was particularly useful. A lot of people weren't prepared to take the risk of any type of online gift or order not arriving. Being able to pop into our businesses and get an instant gift was a big boon."
Does the Our Bury St Edmunds Gift Card create an opportunity for employers to support local?
"It definitely does. The first year, when we launched in October 2020, we did newspaper advertising to encourage corporate orders. We knew that many employers would have already addressed the issue of employee rewards but even so, I think in that first year we had around £10,000 of corporate orders. 2021 was about the same. In 2022, I contacted the 50 largest employers in the area and didn't have a single reply, however, we did then start to get employers contacting us saying they wanted to buy the Our Bury St Edmunds Gift Card for their staff.
"The corporate market is a big market for us to continue with. What we need to remember is that some companies will decide on corporate rewards in September and some will leave it until December. Our aim is to keep our gift card top of mind as an easy way for them to reward their staff. For corporate businesses, buying the gift card saves them a lot of hassle in terms of how to reward their staff, and it's also a way that they can support local."
What was the reaction from your businesses to the Our Bury St Edmunds Gift Card?
"With most of our initiatives, the two things businesses want to know are 'how much is it going to cost' and 'how much effort is involved'. The BID pays for the gift card, so the only thing it costs the business is the same Mastercard cost they'd pay on any debit card transaction. It also has to be easy for the business, which it is. There is an onus on the business to know how to accept the card, but Miconex provides easy to read guides, which we then provide to our members. Three of the top 5 locations where our card is redeemed were in the hospitality sector, so this is a card that supports a variety of sectors. In terms of retail, one of businesses that have had the most sales through our gift card is M&S, and I think that is because they have taken it upon themselves to make sure their staff know how to accept the card from the outset."
Do you have any tips for implementation?
"I think it's about being as open as possible. The temptation is to say it's free but I always make sure businesses know that the usual transaction cost is still there. Most of the businesses who sign up can see the benefits. Some will sign up, such as professional services, because they want to be a part of something for the town."
What are the main benefits your businesses have seen through the gift card?
"New customers is one benefit. If you have an Our Bury St Edmunds Gift Card to spend, you're limited to 75 places where you can spend it. So perhaps you will go to our webpage and see a business listed you haven't used before and give them a try. If you're not on that list, you have no chance of the customer using their card with you. Some of our businesses also accept the card online. The businesses that have been more prepared to consider how the card could work for them, unsurprisingly, gained the biggest benefits."
What benefits has Our Bury St Edmunds BID seen through the gift card?
"Number one, it is a very positive reputational tool. Businesses are required to pay an annual membership fee to be a part of the BID, and if we get a business that says 'what's in it for me', we can talk about lots of initiatives, but one of the first I would talk about is the gift card. It's easy to understand, it's visual around the town so people know it's linked to us and it's just a sound idea. We took the decision that we would fund the gift card fully, so it's a no cost initiative that we can deliver and explain to our members. Generally, it is a good marketing tool, it is a good way of communicating with the public, and it keeps money in the local economy."
How do you market your gift card?
"We market the gift card all through the year, it is always there in the background but we give it a particular push pre Mother's Day, pre Father's Day, in early July to coincide with teachers' gifts, and obviously for Christmas. In the interim, we keep it there as part of our background marketing, making people aware that the gift card exists. Our card features iconic Bury buildings, so it's easily recognisable.
"At different times of the year, we use advertising on our bollards through the town and that features the gift card. We also have marketing displays on phone boxes or shop windows. The gift card is part of the portfolio that we offer to our members. If you launch a product, there is a lot of publicity initially, and once you have established it is a good, well received product, then I think it needs to be advertised all of the time. We run competitions throughout the year, and the prize is always our gift card.
"But as much as marketing tends to be about buying the gift card, another key message is spending the cards too. We don't want cards sitting at home, we want people to spend them. This January, we took out a page in the local paper all about the gift card. We're promoting the gift card, but also encouraging people to actually use them."
Miconex offers a Client Success Program, have there been any aspects that have particularly benefited you?
"We get regular support from Miconex, and that has been maintained over the whole 25 months. My point of contact, Anna Taylor, has been excellent; she is prompt with responses and is always looking to assist us. For us, we're a very small team. I'm the Chief Executive, but I'm also the lead on the gift card. As a team of 4, we have to pick and choose what we take part in. Our experience working with Miconex has been extremely positive, and if possible, we'd like to continue for another 3 years. For us, fundamentally, the product works really well."