Spend Big Win Big
The next generation town and city loyalty program that gives you rewards every time you shop with participating businesses in your area. Turning local shopping into rewarding shopping!
Request More Information

The smart solution for place centred rewards
Mi Rewards is a revolutionary, place centred loyalty program that automatically rewards consumers for spending money at registered businesses.
This innovative, easy-to-use program encourages consumers to spend more in your town or city and simultaneously generates data and insights that will help you to understand your customers.
Rewarding engaged consumers. Providing new insight through smart data.
HOW IT WORKS
For customers, it's FREE to join and takes just 2 minutes to set up an account. Once they've registered, that's it, no need to show a separate loyalty card. Every time they spend money at participating businesses they will automatically be in with a chance of winning amazing local prizes!
Link
Link existing Amex, Visa or Mastercard debit or credit cards to their Mi Rewards account. It works with any bank!
Spend
Every time they spend over £10 across participating businesses they will earn an entry into the monthly prize draw. No need to show a separate loyalty card!
Win
Fantastic monthly prizes to win and also bonus competitions to enter.
A PLACE-CENTERED REWARDS PROGRAM
The program automatically stimulates more spending – the more the customer spends, the greater the value of reward. And, as participation grows, the program automatically generates more and more useful data. So you can start to understand how your town or city is used by consumers, and therefore measure the impact of specific events, marketing, planning decisions or another town or city initiative.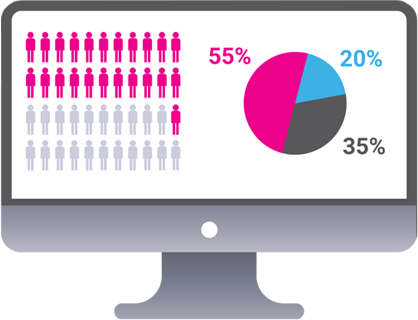 Who are your top customers?
Who are your lapsed customers?
How did the recent marketing campaign perform?
What difference has the recent major development project made to spend in different sectors?
How do staff from large employers, and residents from satellite towns, use the town or city?
The Mi Rewards program offers a straight forward solution for locking in customer spend to our local economy. It really works for all types of business from retail and transport, to leisure and entertainment, and provides us with insight that will help to improve the way our city works. It's a win-win for everyone involved.
Want to know more about Mi-Rewards for your Town or City?
Submit the form below for more info from one of our experts and hear how we're helping local communities harness the current customer mood for shopping while supporting local businesses. Alternatively, you can always call us on +44 (0)1738 444 376
OTHER PAGES YOU MAY FIND OF INTEREST