Lockdown chocolatier is in the running to be the UK's favourite small business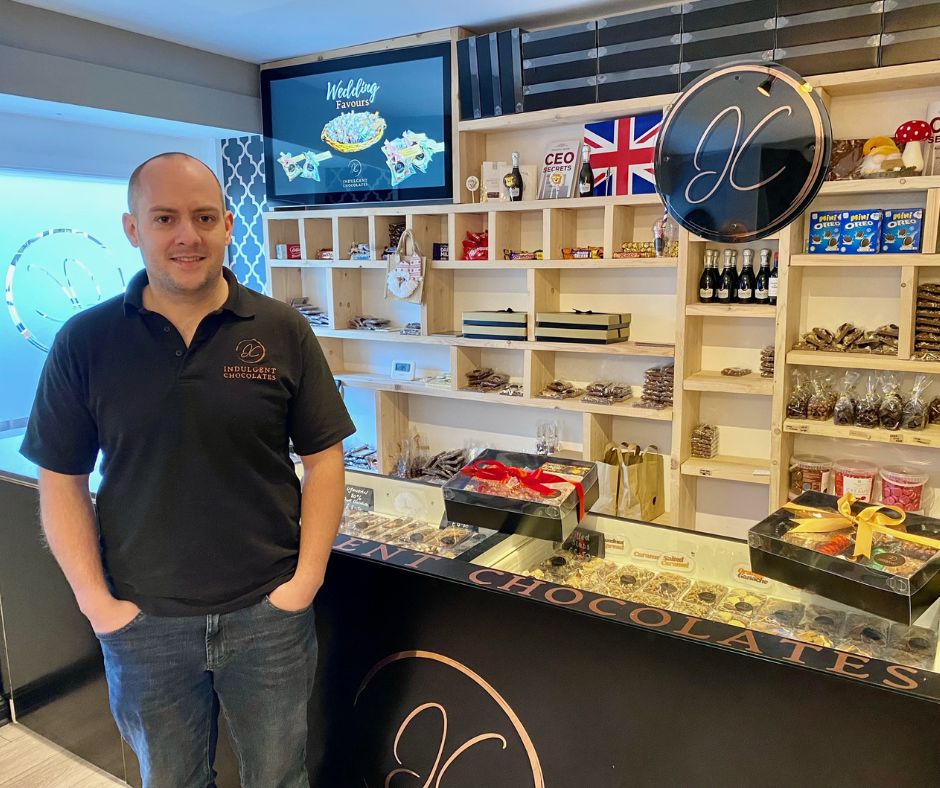 Keith Tiplady set up Indulgent Chocolates after being made redundant during the pandemic – and now his Ashby based shop is up for the UK's favourite local business
The owner of Indulgent Chocolates in Ashby de la Zouch is celebrating after being nominated in a nationwide search to find the UK's favourite local business.
Keith Tiplady set up the Leicester business in May 2020, following redundancy from his role as a project manager for Triumph, opening his shop in Ashby a little under a year later. Keith said:
"My wife has a chocolate tempering machine, which I started experimenting with, making Belgian chocolate slabs and selling them in markets and online. I received an order for 3000 slabs for a care home and it really built from there.
"It has been a whirlwind. Even though I had the online sales, I loved the idea of having a physical shop. Ashby has a thriving high street with a good range of shops so it seemed like an ideal location to open Indulgent Chocolates. We were really lucky and when we opened, we had a queue right down the road.
"Like the name suggests, it's all very indulgent. As well as the chocolates I make, we also sell a range of chocolate cakes, including brownies, cookies, cupcakes and triple chocolate scones, made by my wife and mum, plus ice cream milkshakes. Indulgent Chocolates is everything that I love. One of our bestsellers is the Belgian chocolate slab with Nutella filling, topped with Kinder Bueno and Happy Hippos, they just fly out. Our corporate gifts are popular as are our gift boxes.
"Being recognised in the competition to find the UK's Favourite Local business feels great. It's a tough time for everyone right now, especially small businesses, and someone taking the time to nominate us and maybe inspire others to try our chocolate, means a lot. If we don't support our small businesses now, we'll lose them.
"Running a small business is tougher than I thought it would be. You don't go home at the end of the day and switch off, you're thinking about it 24/7, whether that's new ideas for products or what your next window display should be. But it's also really rewarding."
The Ashby Gift Card was introduced by Ashby Business Improvement District (BID) in summer 2022 as a way to encourage local shopping and keep spend locked into the area.
Keith adds: "I joined the Ashby Gift Card because it's a card for the high street. For my shop to thrive, I need other shops to be thriving. The gift card drives footfall and that is beneficial to all of us. It's an ideal reward for employers to give to their staff and it's what I'll be giving to my team this Christmas too. Whether they spend it at Indulgent Chocolates, or any other business in Ashby, it helps our town overall."
Stuart Benson, BID Manager, said: "Indulgent Chocolates is a relatively new business to Ashby that has made a big impact and it is fantastic to see them nominated in the search to find the UK's favourite local business. So much time, passion and determination is offered by small business owners in Ashby, and they contribute hugely to making our town one of Leicestershire's best."
Ashby's Gift Card is part of the Town & City Gift Card initiative active across the UK and Ireland.  Town & City Gift Cards is sponsoring the Help Us Find The UK's Favourite Local Business competition.
Any local business can be nominated, with the business receiving the most votes being crowned as the UK's favourite. The UK's favourite business, and one person who nominated them, will receive £500 of gift cards.
Other nominations for Ashby businesses received so far include Olive Branch Café, The Courtyard Café, The Style Hive and Moment in Thyme.
Colin Munro, managing director of Miconex said: "Indulgent Chocolates is what this competition is all about, celebrating local businesses who are having a positive impact on their community. The winning business will be announced in December and we hope to see many more nominations coming in for local businesses in Ashby."
Vote for Indulgent Chocolates or any other Ashby business for free at www.lovelocalwin.co.uk. Voting closes on the 21st December 2022.