Hurst is crowned UK's favourite local business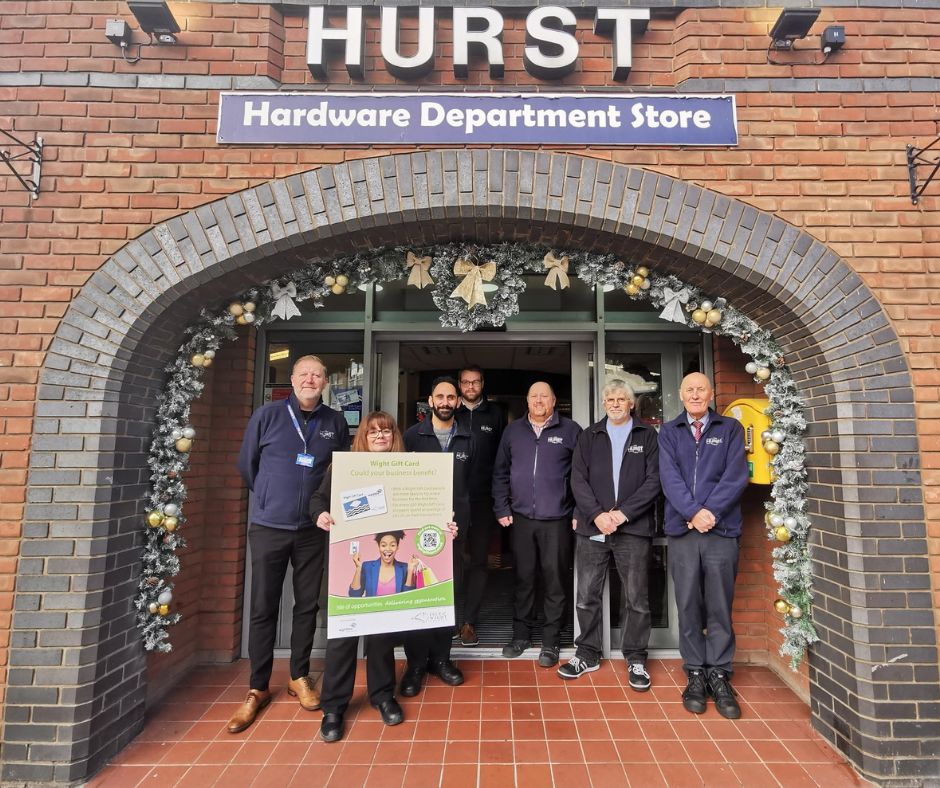 Isle of Wight home, DIY and garden retailer W. Hurst & Son has taken the top spot in a nationwide search to find the UK's favourite local business, and it has put its success down to one thing
A commitment to traditional values has seen a historic Isle of Wight retailer crowned as Britain's favourite local business. Thousands of entries for businesses around the UK were received in the competition, sponsored by local gift card giants Town & City Gift Cards.
Finalists in the competition include women's clothing store Chester Boutique, Bristol sustainable lifestyle store Prior, Colchester gift emporium Bill & Berts and Harrogate based Crown Jewellers.
Hurst, which has 6 branches in the Isle of Wight and dates back to 1859, was the winning business with over 500 votes and will receive £500 of Town & City Gift Cards to share with staff.
Retail industry expert Jevon Kennedy is the managing director of Hurst and has over 35 years' retail experience with brands including Debenhams.
In a challenging retail environment, Hurst is bucking the trend, which Jevon believes is down to the company's old fashioned values, staff team and a willingness to be flexible.
"There's a real sense of pride at receiving this amazing accolade as the UK's favourite local business," said Jevon. "I can't tell you how pleased I am. I was born on the Island but for most of my life I've worked on the mainland including as area or store manager for brands including Topshop, Topman, New Look and Debenhams.
"The high street has faced many challenges over recent years. If you're perceived as a brand that gives a certain level of service then you have to build on that and not cut corners which reduce the customer experience. It's fantastic to see lots of new independent businesses springing up, who are dedicated to customer service. The challenge often comes for businesses when they start to expand.
"One thing we have done at Hurst is to maintain our old fashioned values, celebrating our DNA but also reviewing how the world is changing. In the last two years, the retail landscape has changed more than it has any time since WW2. Our role at Hurst is to give friendly, helpful service, and that's our mission as a company, to put customers first.
"Often in retail, the focus is on training staff but our training is more reinforcement of the values that our staff already have; they genuinely want to help people. In terms of recruitment, I think you can instantly tell if someone is a considerate person. We look for values and then make sure our team understands our product. And we're very lucky to have many long standing staff members. Of course, we don't get it right all the time, but our service comes from the heart and that is something you can't train for. Every day, every hour, we are advising customers and giving helpful, honest advice.
"When it comes to strategy, it's not knowing what your next move is, it's knowing what your next move plus one is. Planning is important but it's even more important to be aware of how things are changing in your industry, including customer expectations. What worked 12 months ago might not work now. Good companies will do what it takes because you're not there unless your customer is there with you."
Hurst is part of the Wight Gift Card, and accepts the card as payment at its branches and online. The Wight Gift Card was introduced by the Isle of Wight Council in November 2020 to encourage residents and visitors to shop locally and keep spend on the island.
Jevon adds: "It is absolutely essential for a local business like Hurst to be a part of the community, taking part in initiatives like the Wight Gift Card. Accepting the card has definitely helped our business with new customers and it has been a pleasure to be involved in, particularly when the Isle of Wight Council gave out the cards to carers on the Island to thank them for their service.
"We're still facing challenging times, and that's what makes this accolade as the UK's favourite local business even more precious. We're so proud and thankful, and will continue to do the best for our community here on the Isle of Wight."
One person who nominated Hurst, Lyn Humphrey, wins a £500 Wight Gift Card. Lyn said:
"Hurst are true to their slogan which is 'try Hurst first' because you can invariably get what you want from Hurst. They are all island people that work at Hurst and they give helpful service, which might sound like a basic thing that happens in every shop but it really isn't. When people are friendly, it makes such a difference. You know that when you go there, you will get good advice, with a smile. And, the shops always look so nice too. I'm very pleased that Hurst has won and look forward to spending my Wight Gift Card to explore businesses new and old on the Island."
Councillor Julie Jones-Evans – Cabinet Member for Levelling Up, Regeneration, Business Development and Tourism: "What a way to start 2023! We are so proud of W Hurst & Son, a stalwart of the island's high streets, receiving the prestigious accolade of the UK's favourite local business. They go above and beyond to support the community, getting involved in charity events and activities, becoming a drop off point for the Isle of Wight Food Bank, and giving customers from the Island and across the UK award winning service. They have been very supportive of the Wight Gift Card scheme and totally understand the ethos behind it, keeping more of our island pounds circulating here."
Colin Munro, managing director of Miconex said: "Congratulations to Hurst and its team for a well-deserved win as the UK's favourite local business. Reading through the nominations received for local businesses from across the UK, it is clear how much love we have in Britain for our shops, restaurants, venues and service providers. What shone through about Hurst is their commitment to traditional values such as helpfulness, friendliness and service, plus their unwavering support for their community. Local businesses are the beating heart of our communities and we applaud each and every one."