How we used our local gift card to be top in the UK for in-person sales: The East Lothian Gift Card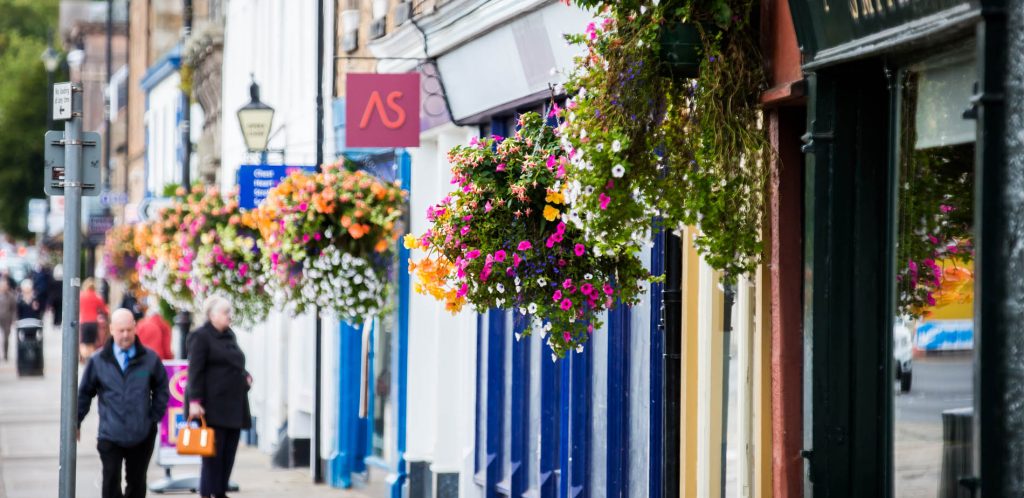 Background to the East Lothian Gift Card
In January 2022, a Financial Times report credited East Lothian, home of the East Lothian Gift Card, with a 12% rise in in-person spending since the pandemic- the highest across the whole of the UK. The East Lothian Gift Card launched in November 2018, and can be spent with over 130 independent businesses in the county as part of East Lothian Council's commitment to support and encourage small businesses. Over £167,000 has been locked into East Lothian through the purchase of East Lothian Gift Cards since the launch of the programme.
Gemma Slight works in business development at East Lothian Investments (ELI), an arm's length company of East Lothian Council which leads on the East Lothian Gift Card and Richard Baty is the Manager of ELI:
How did it feel for East Lothian to be the area of the UK with the highest in person spending in 2021?
Gemma: "It was great to read the Financial Times article, and it mimics what we're hearing from our businesses. We actively encourage our businesses to collaborate and the East Lothian Gift Card is a prime example of how our businesses are willing to join together behind a powerful shop local message for our region. It is also testament to how resilient our businesses have been during the pandemic, how they have pivoted their operations, and collaborated on everything from gift boxes to sharing deliveries."
What research did you conduct to find a gift card solution and what were the key elements you were looking for?
Richard: "Prior to introducing the East Lothian Gift Card, we ran a Christmas Shop Local campaign in the months of November and December. For every £20 spent locally, customers would be entered into a prize draw to win vouchers. It was incredibly popular, we had over 8000 entries in the final year, but as a paper based system it was both expensive to run with the paper and postage costs, and admin heavy.
"What we really wanted was a programme that we could operate all year round, rather than just at Christmas. We came across the Perth Gift Card and approached Miconex to see if the gift card programme used for the city of Perth could work across the whole county of East Lothian. They said it could and that was the start of the East Lothian Gift Card. From a council perspective, it was decided that the best way to manage the project was through East Lothian Investments, a not for profit organisation that also arranges interest free loans to businesses in the area and with a strong track record of economic development."
How was the idea of The East Lothian Gift Card received by merchants? How did you onboard them?
Richard: "We already had good links with local independent businesses because of our Christmas Shop Local campaign, from retailers to hospitality. The team went around the independent shops and trade associations in person to tell them about the new East Lothian Gift Card, and we used social media too. We made businesses aware that there was no cost for them to be involved, answered any questions about the system and explained that the scheme would be key to getting people spending locally. The majority were keen to sign up and it was an easy transition."
Gemma: "Some of our most popular businesses for redemption are our garden centres, but a wide variety of businesses benefit, including gift shops, restaurants, food and drink sellers such as butchers, and health and beauty merchants. It is particularly heartening to see those businesses that have really struggled during the pandemic do well."
Can you please tell us about your launch, marketing and PR activity?
Richard: "East Lothian Council really got behind the launch. As a small council, we work closely with other departments, and new projects are well known and supported. Our local paper the East Lothian Courier covered the story, we used social media and we even created an advert for STV. East Lothian Council hosts the STAR awards each year to recognise and celebrate council employee achievements, they were giving out John Lewis vouchers and we flipped this so they were giving out East Lothian Gift Cards instead.  We realised that there could be other organisations and companies who might want to support local businesses with their staff incentive and reward programmes.
"After some marketing to local businesses around Christmas 2019, our corporate sales slowly developed. The pandemic had a positive impact in many ways because employers had staff working from home, or were not hosting Christmas parties, and gave staff an East Lothian Gift Card to thank and reward them. Additionally, some independent trade associations in East Lothian received a grant through the Scotland Loves Local Fund and were able to use this money to buy East Lothian Gift Cards to give out to their members, who in turn used the gift cards as customer incentives."
Gemma: "It is vital to keep the gift card brand active all through the year, with both customers and businesses. Our businesses are well invested in the gift card, they display our marketing materials giving customers that reminder to spend. In January 2022, our focus has been on redemption, and encouraging people to get out and spend their gift cards. Our remit is to support our local businesses, so it's vital that cards are not only purchased but spent by the recipient too. Any issues with the acceptance of the gift card is usually down to staff changes. Keeping in contact with your businesses minimises this.
"Initially, we used our existing Biz East Lothian social channels to launch and promote the gift card, as these channels already had followers and interaction. In 2020, we felt the East Lothian Gift Card brand had enough recognition in its own right, and set up new social channels on Facebook and Instagram purely for the gift card. We created a video using a local start up firm recently; video content works really well, as do competitions."
What are your future plans with The East Lothian Gift Card?
Gemma: "A new initiative for the East Lothian Gift Card introduced at Christmas 2021 is Load This Card, meaning customers can pick up an East Lothian Gift Card whilst doing their shopping, and use the Load This Card service to add a balance. This gives customers who are looking for an instant gift, and don't have time to wait to buy the card online and wait for delivery, to get access to the East Lothian Gift Card straight away. It also gives our gift card a visible presence in our local retailers.
"As our high streets re-opened in 2021 and through 2022, a number of East Lothian towns are running their own promotions, supported by East Lothian Council, to drive footfall, using the East Lothian Gift Card. In Musselburgh for example, Musselburgh Business Partnership is offering a £5 East Lothian Gift Card to spend in February or March in any of the registered Musselburgh businesses, as a reward for spending £20 in the town. Activities like this contribute to the sense of community engagement with the gift card, and the shop local message."
And finally, any advice for other places thinking about launching their own gift card?
Richard: "We have a good working relationship with Miconex, which is really important when you're launching a gift card programme so that you're able to sort out any niggles or issues quickly. The East Lothian Gift Card has had an extremely positive impact for our county. We've been able to lock spend into East Lothian, keeping our high streets vibrant, supporting our independent businesses and building footfall."
Gemma: "When launching your own Town & City Gift Card, get buy in from your businesses from the outset. The gift card is an initiative for them, and will directly drive footfall and sales. If your businesses are behind the scheme and understand its benefits for them, and for the area as a whole, you're on the right track. Work at building a strong proposition for your gift card, with at least 100 businesses and a good variety. Use the assets provided by Miconex, as they can save you a lot of time and be consistent.
""To attract corporate sales, talk to your local employers. Ask the question of whether they offer employee rewards, and what time of year. Build the relationship through the year, and see if there is an additional incentive you can offer. Collaboration, building the shop local message over a number of years, and consistently driving the gift card has undoubtedly contributed to our position as the area of the UK with the greatest rise in in-person sales since the pandemic. It's good to see our businesses reaping the rewards, as they deserve it."