Customers might have a £50 gift card and put another £30 or £40 to it: Arran Active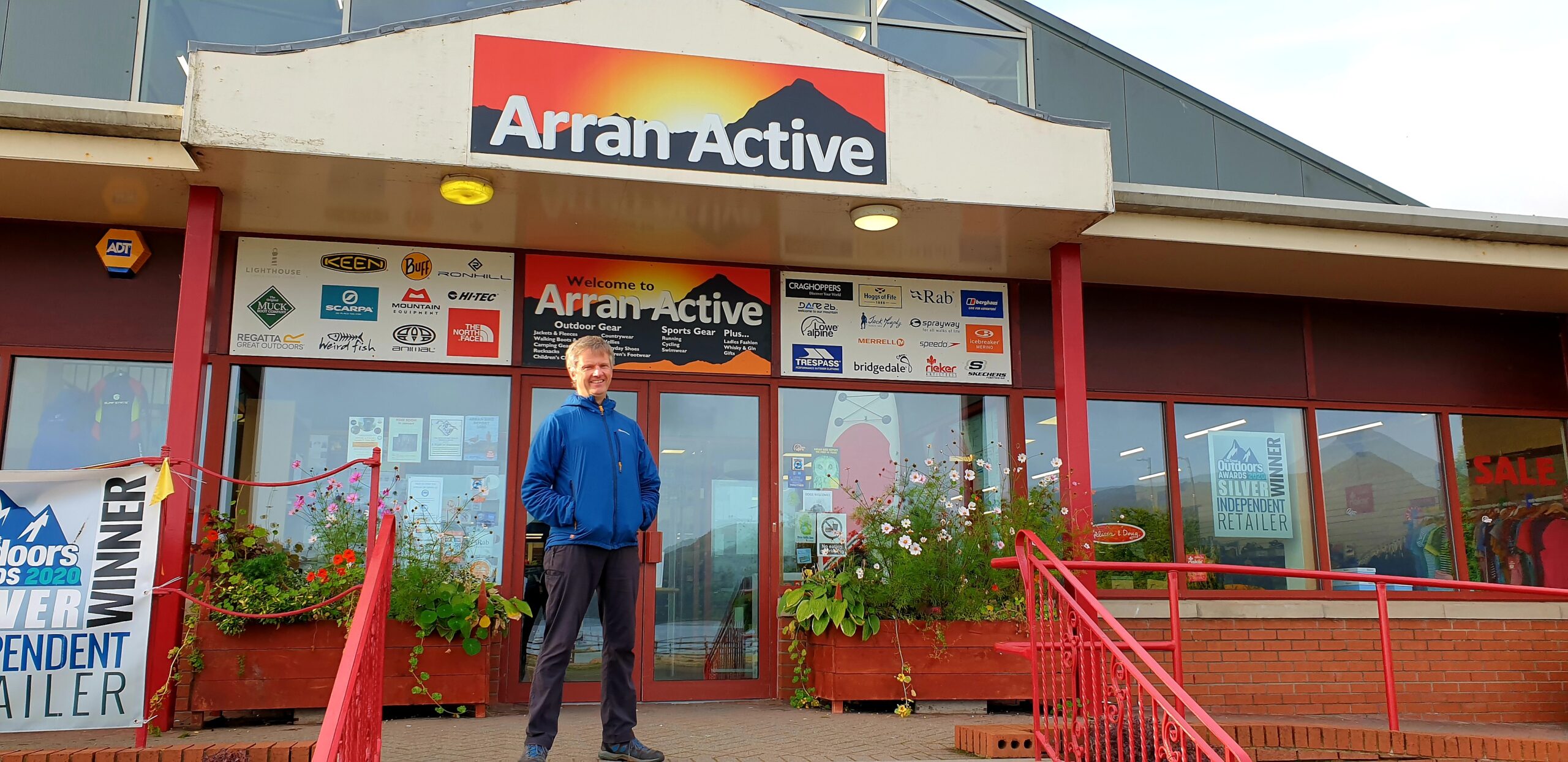 Arran Active is an independent outdoor retailer based on the Isle of Arran, and is part of the ArranCard. We spoke to Arran Active founder Andrew Walsh to find out how their business has benefited from being a part of their local gift card.
"16 years ago, I was working for a bookselling chain in the South of England. This was around the time when high street bookstores were starting to see the negative impact of Amazon. The thought of island life was appealing. My wife Juliette and I moved with our young daughters, aged 5 and 3, to Arran, where we took over a small outdoor shop in the Cladach Visitor Centre. It was a big move, but it was the right one for us.
"Today, we have larger premises on Brodick seafront about 250 yards from the ferry port, and a store turnover that has grown from £125,000 to over £1 million. The pandemic was tough of course, but we have had good years and our cash reserves enabled Arran Active to survive. The furlough scheme and government support helped us to look after our staff.
"Footfall onto the Isle of Arran was strictly controlled during lockdown. We offered Click and Collect for locals when we were allowed. Like many retailers, one of the challenges was having the right stock for the season. We had to put the thick down jackets and winter clothing away, and are just beginning to get these out again. All these things are manageable though. It's about being nimble.
"Getting involved in the ArranCard was an obvious move for us. I think it's a brilliant idea. A customer can choose an evening out in Arran or a new pair of walking boots. They get exactly the gift they want and the money stays on the island. It's a win-win for everyone.
"The people that tend to use the ArranCard are locals, or maybe people that come to the island a few times each year. If you know someone lives on Arran, or visits here regularly, it's a great gift. Customers tend to spend their gift card on a quality item, something that will last. It is an outdoor lifestyle here on Arran, and a decent jacket and boots are essential. A lot of the gift card sales are hefty. Customers might have a £50 gift card and put another £30 or £40 to it.
"There is limited administration on our part with the ArranCard. We have a small sticker in the window to say we accept it, but that's it. We train any new staff member to ask how much is on the gift card. If the customer doesn't know, we can quickly look it up for them, and get a total that is accurate to the minute. Then we can put the relevant amount through on the gift card, and the customer pays the rest. Or if the transaction total is less than the value of the gift card, the customer has the remaining gift card balance to spend at another Arran business. It's good to see every business get their share.
"The ArranCard is very well supported on the island. We even bought the ArranCard for our own staff at Christmas, so they could treat themselves at the 70 plus businesses on Arran. If you're a business owner that has the opportunity to get involved with your local gift card, I'd say get on board with it. You put the gift card through like a debit or credit card, and that's all it is. It's easy. Anything that keeps money local and supports small businesses is a winner in my eyes."