Could iconic Isle of Wight business Hurst be crowned as the UK's favourite local business?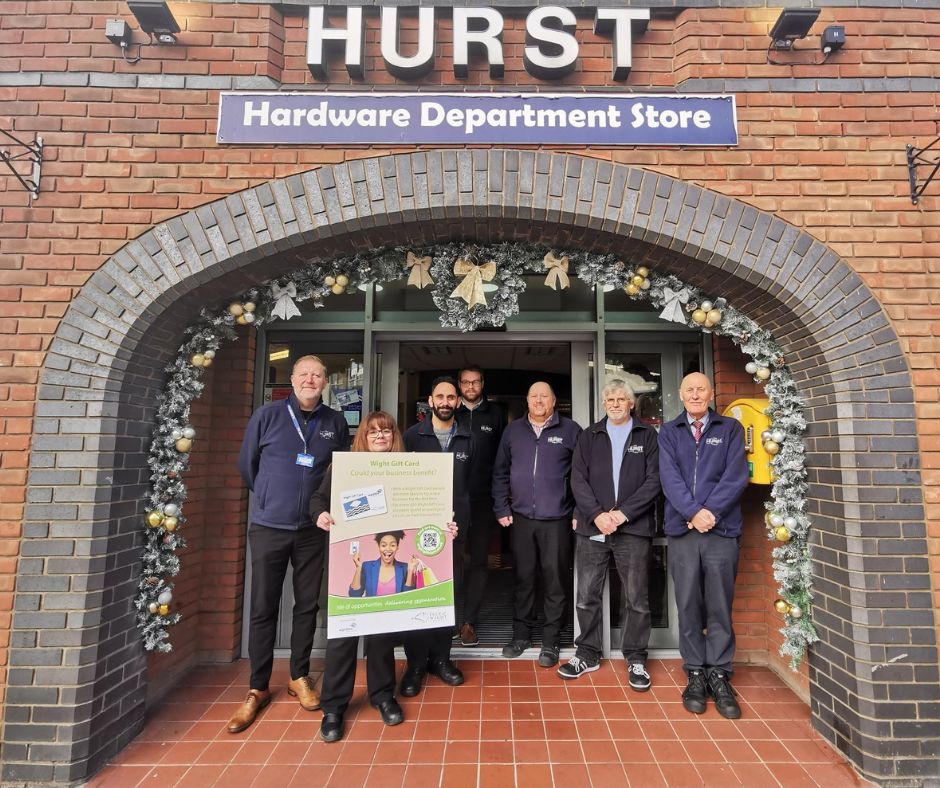 There have been multiple nominations for iconic Isle of Wight business Hurst in the national competition – any local business can be nominated, with a prize of a £500 Wight Gift Card on offer
Home, DIY and garden retailer Hurst is celebrating after being nominated in a national competition to find the UK's favourite local business.
The firm, who have bases right across the island in Newport, Cowes, Freshwater, Ryde, Shanklin and Ventnor have been praised for their friendly and helpful staff, choice and home delivery.
Shanklin resident Anna Hardy nominated Hurst in the competition and said:
"Hurst are always open on time and their range is excellent. I live in Shanklin and if they haven't got what I need in the Shanklin store, they will call Newport and see if they have it. They make it easy to shop local. They'll also deliver for free, which was especially useful during lockdown. The staff are always lovely. For me, Hurst wins every time on both price and quality. They are a special local business in the Isle of Wight and I would love to see them win the competition."
Jevon Kennedy is the managing director of Hurst and said they are extremely proud to have been nominated by the public:
"Hurst was established in 1859 with roots in agriculture and ironmongery. Over time, we have evolved to the 6 branches we have in the Isle of Wight today. Our objective at Hurst is to serve our local community, employing local people and supporting the island through initiatives like the annual Isle of Wight Day, fundraising and supporting local charities such as cycling around the Isle Of Wight to raise funds and awareness or the Isle of Wight Heart Care Club earlier in the year, and donating the proceeds of carrier bag sales to various local charities. We even participated in some carnivals this year!
"We deliver island wide to any address through our own network of delivery people but I think it's our people that really make Hurst. Many of our 80 strong team are long serving employees. Like our delivery colleagues, nothing is a problem and if a customer needs compost delivered to their back garden, for example, we'll do that.
"Our branches are hubs of the community, and most of our team know our customers by name and are always happy to make time for a chat. With a product like ours, having colleagues on hand to give good old fashioned advice about the best product to use for that DIY project is, I think, really appreciated by customers.
"We're also the only retailer to still sell single units, so if you just need a single bolt, you can buy a single bolt. Customers call Hurst an Aladdin's Cave, because of the huge range of stock we carry. Economising is now more of a challenge for everyone, including us, however we do our best not to pass these extra costs to customers so we can remain competitive, and stick to honest promotions that genuinely benefit customers."
Hurst is part of the Wight Gift Card, and accepts the card as payment at its branches and online. The Wight Gift Card was introduced by the Isle of Wight Council in November 2020 to encourage residents and visitors to shop locally and keep spend on the island.
Jevon says the pandemic has embedded support for local even further:
"We're part of the Wight Gift Card because it's an initiative for our Island that supports the community, and aligns closely with our values. The pandemic gave us all a renewed sense of how important it is to shop local and we're thankful to have good customer loyalty at Hurst. When the Wight Gift Card was distributed to carers on the island, it was a privilege to serve these customers in store and thank them for their service.
"It is a real proud moment for Hurst knowing that locals have taken the time to nominate us in the Help Us Find The UK's Favourite Local Business competition, and is testament to our hard working team."
Councillor Julie Jones-Evans – Cabinet Member for Levelling Up, Regeneration, Business Development and Tourism: "It's fantastic to see nominations for a much loved Isle of Wight business, who does so much to support our community. Our local businesses are the lifeblood of our community, employing local people, keeping our high streets vibrant, and serving our residents and visitors day in and day out. Please continue to vote for your favourite Isle of Wight businesses so we can celebrate our local businesses. You could even win a £500 Wight Gift Card."
The Wight Gift Card is part of the Town & City Gift Card initiative active across the UK and Ireland. Town & City Gift Cards is sponsoring the Help Us Find The UK's Favourite Local Business competition.
Any local business can be nominated, with the business receiving the most votes being crowned as the UK's favourite. The UK's favourite business, and one person who nominated them, will receive £500 of gift cards.
Colin Munro, managing director of Miconex said: "Hurst is an excellent example of a local business that goes above and beyond to support its community, evidenced by the number of nominations we've had for Hurst since the competition opened. The winning business will be announced in December and we hope to see many more nominations coming in for local businesses in the Isle of Wight."
Vote for Hurst, or any other Isle of Wight business for free at www.lovelocalwin.co.uk. Voting closes on the 21st December 2022.