City businesses reap the rewards of York Gift Card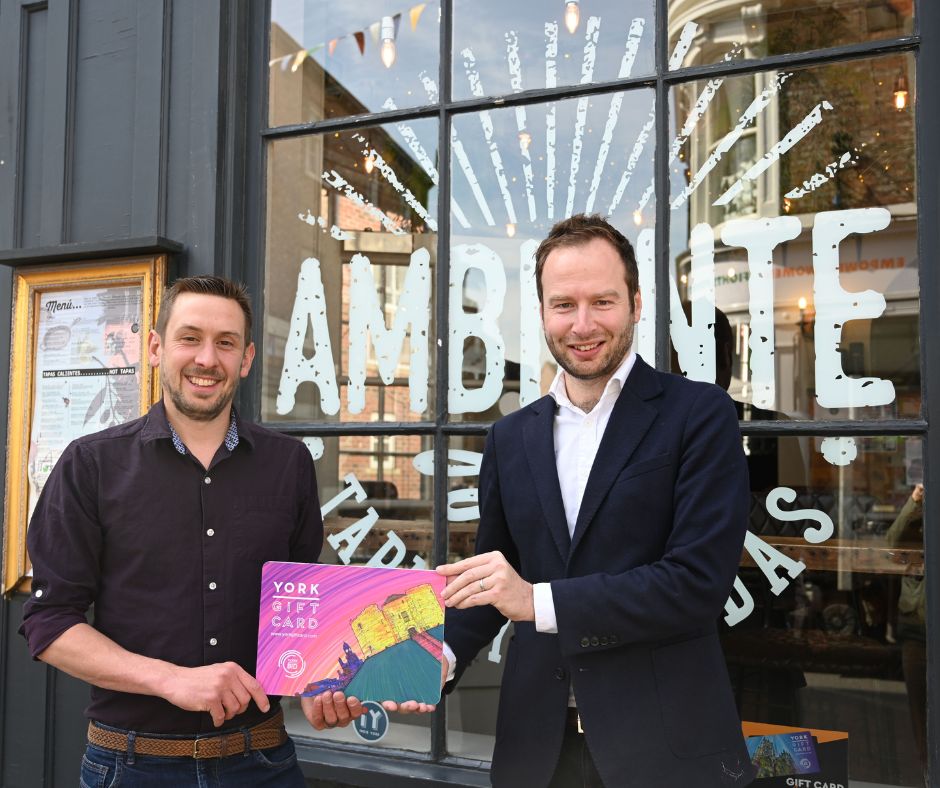 The York Gift Card has reached a milestone £200,000 of gift cards sold, with city restaurants, cafés and eateries amongst the most popular places for people to spend their cards
City businesses are hailing the popular York Gift Card a success as it reaches £200,000 in gift cards sold.
The York Gift Card launched in the city in 2019 and can be spent with close to 300 shops, restaurants, hotels, attractions and services, making it one of the biggest local gift card initiatives in the UK.
Recipients of the card are taking advantage of the full range of businesses on offer, with over 91% of businesses seeing spend through the gift card. Of the 11 top businesses for the York Gift Card, 7 are hospitality venues.
Led by York BID, sales of the York Gift Card have increased year on year since its launch, with £74,000 of cards sold in 2022. An eco-friendly paper version of the York Gift Card was introduced in 2022.
Operations manager of York BID Carl Alsop said the York Gift Card continues to grow in popularity and impact:
"From York's iconic attractions to its best restaurants, fun things to do to places to stay, pampering to shops, nationals to independents, treats to practicalities, the entirety of York's offering is wrapped up in the York Gift Card. The unrivalled choice on offer with the York Gift Card means it keeps on growing in popularity.
"Reaching £200,000 of gift cards sold is a real achievement for us as a city. In 2022, two thirds of people spent more than the value of their gift card on redemption, with 43% spending £10 more on a £30 gift card, 10% spending £50 more, and 6.6% spending £100 more. Taking the overspend into account, the true value of the York Gift Card to our city is considerably higher."
A popular restaurant for people to spend their York Gift Card is Ambiente Tapas. Rob Scott-South is Group Manager at Ambiente Tapas and said the York Gift Card is a thoughtful gift:
"We have 3 restaurants in York; Goodramgate, Fossgate and Walmgate, all serving freshly prepared Spanish tapas. We're part of the York Gift Card because it's an initiative that promotes York and encourages spending in the city, including with our independents. It's so important that York has a thriving indie scene because it's what differentiates us from any other city.
"Gift cards can be boring because they limit the recipient. The York Gift Card on the other hand is appealing because it features lots of fantastic businesses, giving the recipient freedom of where to spend, so they can use it for a whole experience of York. It's a thoughtful gift and a way that those who love York can share our city with others.
"It's fantastic that so many people are choosing to spend their York Gift Card at Ambiente. We've been here in the city centre since 2010 with a really good following. Each restaurant has its own atmosphere so there's something for everyone. We get locals and visitors using their York Gift Card with us, and both new and existing customers. £200,000 of York Gift Cards sold is really positive. The more money we can keep in York through the gift card, the better the city becomes."
Another winner with the York Gift Card is family run restaurant Ate O'Clock. Emily Crampton from Ate O'Clock said the gift card enables people to continue to enjoy eating out during the cost of living crisis:
"Brothers Savas, Alex, and Ali Adiguzel took over Ate O'Clock in 2017 and it is going really well, with a new menu and expansion. The food and drink scene in York is strong and it's competitive, you have to be really good to be a part of it.
"The York Gift Card is brilliant for us because when people are looking to eat out using their card, we pop up as an option, and it brings people through the door to try us out, often becoming regular customers. Having a gift card is also like free money, so people will be more experimental, try new things and treat themselves to an extra course or a bottle of wine.
"Eating out is a treat and isn't something that most of us can do every night, especially in the cost of living crisis. We have a new 2 course set menu for £22 and 3 course menu for £25, featuring British classics such as fish and chips, rump of beef or my favourite, chicken Kiev. So a £50 York Gift Card is the equivalent to dinner for two. Having a York Gift Card means people can still have the treat of eating out. Whether it's locals or visitors, the York Gift Card has a great offering with loads to spend it on; it's such a good idea."
Bettys is a popular café for people to spend their York Gift Card. Carol Hanson is the York Branch Manager and said:
"We are delighted to be part of the York Gift Card and to work alongside our community of businesses to interest people in York's history and heritage. We are always keen to encourage people into York to see all the unique things this beautiful city has to offer, not least its fantastic hospitality and retail offering.
"Bettys is iconic, you hardly ever read about York without Bettys being mentioned, so people are really keen to come and see what all the talk is about and use their York Gift Card with us. Sometimes, families might put together a package for parents' celebrations and the York Gift Card gives them the flexibility to choose where they want to go. Or students might have been given the card as a treat from friends and family.
"Like York itself, Bettys is a brand with a fascinating history. Our York branch was purchased following founder Frederick Belmont's journey on the maiden voyage of RMS Queen Mary to New York in 1936. Although the ground floor and the Oak Room have undergone several redesigns over the years, the interiors were and remain inspired by the liner's elegant Art Deco style. Our recently refurbished Belmont Room is a jewel in our crown and the location for our bookable afternoon tea."
The York Gift Card is part of the award winning Town & City Gift Card concept from Miconex. Colin Munro is the managing director of Miconex and said:
"York BID has continued to innovate and improve its gift card, introducing new gift card designs to maintain its relevance, adding new businesses to enhance its proposition and keeping the card top of mind through its marketing. These factors combined make the York Gift Card the gift of choice in York and an initiative that will continue to grow in success."