Businesses love that the gift card is easy to use, that it locks spend in locally, and that it's a multi-store card that can be accepted in nationals and independents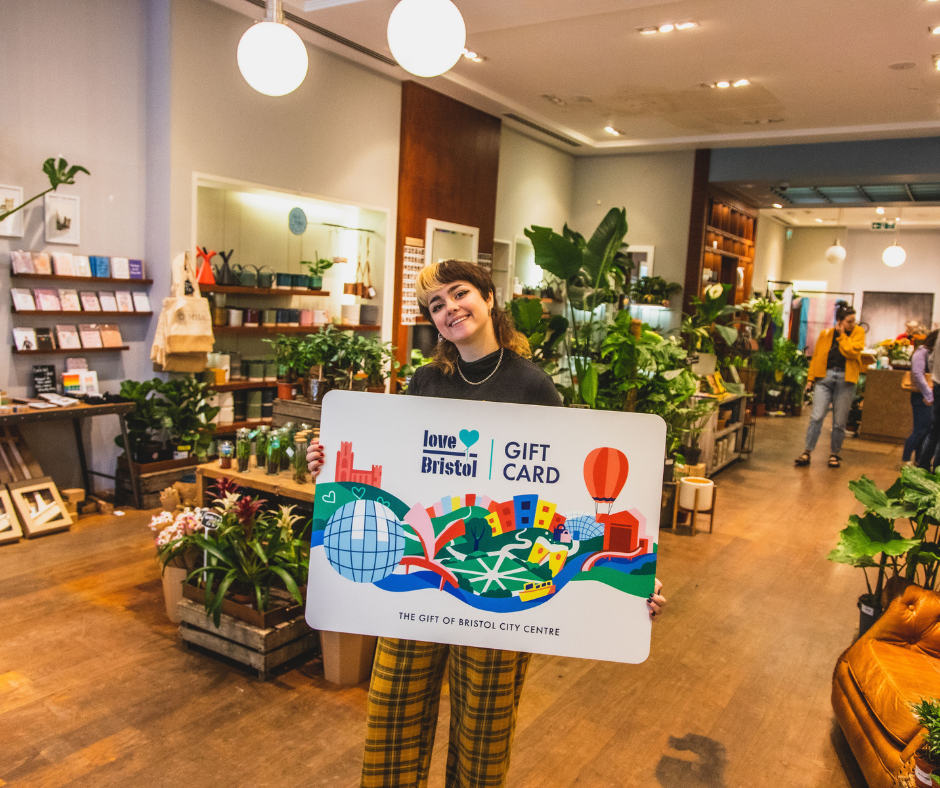 Over 150 businesses are part of the Love Bristol Gift Card, which launched in the city in 2022. Steve Bluff is the Head of Redcliffe and Temple BID and said:
Why did you introduce the Love Bristol Gift Card?
"Introducing the gift card was a long time coming for us. When Redcliffe and Temple BID launched in 2021, we joined together with Bristol City Centre BID and Broadmead BID to launch the gift card and support our 1200 levy payers. It was an easy decision to make."
How did you go about building the Love Bristol Gift Card proposition?
"The Love Bristol brand is something we've been promoting since covid as a means to engage the city to love Bristol. It already resonated with the consumer market and we were able to align the gift card with the brand.
"One thing that was really important to us was the gift card design to capture the consumer's imagination and reflect Bristol as a city. It's a nice gift to receive. Customers love the card and the simplicity of ordering it. I think it will be great to introduce Collect and Click and the ability to buy cards in-store, as that will really build awareness.
"A bonus of having the three BIDs joining forces on the gift card was the mix of businesses we were able to onboard within our BID areas, from retail to hospitality, gyms to cinemas; you name it, we have it. We have 150 businesses now, but in the next phase of our growth, we're aiming to increase that further."
How does the Love Bristol Gift Card compare to a generic multi-store gift card?
"For us, because it is Bristol branded and can be accepted at multiple businesses across a range of sectors, it's a strong proposition. Generic multi-store gift cards don't reach as far as the Love Bristol Gift Card. It's down to us and our businesses to drive that proposition to even greater heights.
"We have everything from local flower shops to local cafés and big institutions of Bristol like the Bristol Hippodrome and the Old Vic. And just this week, we've signed up Watershed, which is another iconic venue in Bristol in the harbourside. We've got a dozen hotels on the card, so from a visitor tourism perspective, it's the added bonus. No other multi-store gift card can give you so many different options of businesses to spend it in."
Do you feel the Love Bristol Gift Card creates an opportunity for employers and consumers to support local?
"One of our target markets is the corporate market. In Bristol, we have a huge professional services sector who quite often buy incentives for their teams and perhaps weren't buying locally driven incentives before, but the gift card gives them a perfect opportunity to do that. There is a big demand for those teams to buy local. We haven't fully cracked this market yet, but this adds to the list of opportunities for the Love Bristol Gift Card."
Why did you introduce the Love Bristol Night Out Gift Card?
"Bristol is famous for its night time economy. We felt that our existing Love Bristol Gift Card had opportunities to reach out to a night out audience, across a wide demographic. It was something that both we and our levy payers wanted, as a way for our night time venues to attract additional footfall and spend, and showcase our night time businesses, from bars and clubs to restaurants, hotels and theatres."
What are the benefits of the Love Bristol Gift Card for your businesses?
"It's a nice thing to do for our businesses. The initial reaction from our businesses was 'how much does this cost' and when we told them it was free, there were big celebrations and they couldn't believe how simple it was for them. We were organising everything. And the fact that there were no additional Mastercard charges was another important point for businesses. The reason we signed up the Watershed up this week was because they'd heard that we'd signed up other iconic Bristol venues and they didn't want to miss out. It has taken them a few months to get to that point. We know that we still have a job to do to bring even more businesses on board.
"It's still early days but anecdotally, what we're hearing from businesses is that they love that the gift card is easy to use, that it locks spend in locally, and that it's a multi-store card that can be accepted in national retailers like TK Maxx, but also local independents. They like all of those things and also the fact that it is aligned to the Love Bristol brand."
How did you find the process of implementations?
"Businesses definitely preferred the in-person approach and we had more success in going into the venue and speaking to the manager. At the early stages, we showed the draft card design, then later, we used the big Love Bristol Gift Card which businesses loved. We took on an intern, Izzy, to help launch the card. Izzy did a fantastic job promoting the card to local businesses and really helped to drive awareness. The launch was so successful that we've taken Izzy on full time and she is a real champion of the gift card. Of course, that isn't possible in every BID but having someone champion the gift card and face to face contact in the early stages is key, in my opinion. The fact that we actually went in and set the businesses up to accept the card really helped them too."
What return on investment does the Love Bristol Gift Card offer?
"It helps us to elevate the Love Bristol brand to start with; it's a real talking point for the BIDS and gives us that leverage to talk to businesses, and build on that relationship we have with the 1200 plus levy payers. It's something that is tangible. Sometimes it is quite difficult for BIDs to show tangible results, but the Love Bristol Gift Card does that. Each of the BIDs has an advisory board, and every one of those members of the board really supported the program and could see the benefits for businesses. It had a high level of support at an advisory level. There's not much to fault on what the gift card can deliver for BIDs. It's cost effective. It will take a few years to reach the true return on investment, but that is true for any new product."
How have you marketed your Love Bristol Gift Card?
"Christmas drives 40% of gift card sales. At Christmas 2022, our first Christmas, we were keen to tap into the corporate market and drive consumer awareness. We did a consumer awareness campaign with social assets and bus advertising on the main route through the city centre, which had a lot of love on social media. We'll be pushing Valentine's Day next month, then Mother's Day, Father's Day – all of the major gifting opportunities. Our focus will be pushing the gift card each month but ramping it up before a gifting occasion. We're in a cost of living crisis, so anything we can do to drive revenue is really important, and that needs constant attention. We also got involved with the Miconex Christmas campaigns, giving consumers the chance to win a high value prize, so those have been great too. But really, we've only just begun and there is so much opportunity with the gift card."
How have you found the Miconex Client Success program?
"The fact that you get an account manager is great because they can help with any hints and tips on how to sell the card and with any technical queries or on-boarding. The Miconex webinars that focus on the events or themes are useful. We'd actually attended a webinar about how Bradford had leveraged their gift card to create a Night Out Gift Card, and that led to us investigating how we could do something similar in Bristol. Sharing best practice, and what has worked well for other places is really useful. I think the more that we can learn from each other, the better. My ambition for the Love Bristol Gift Card is to double the number of businesses and double the spend, and there is no reason that we can't do that, if we can learn from others and use the resources that Miconex has to help us to get to that point."